Wondering what to do with all of your leftover candy canes? Fear not, I have a solution! Candy Cane Cupcakes!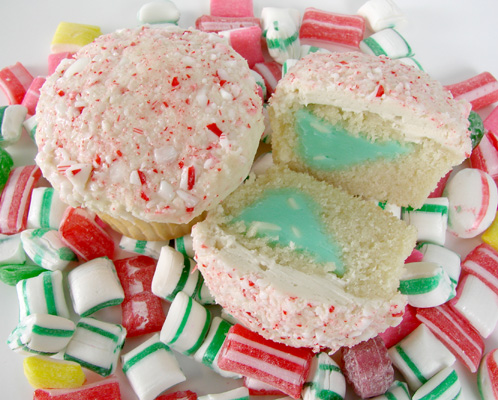 Now, mine are filled with a blue White Chocolate Ganache because that's what I used to surprise my family with the sex of our baby (missed that post? It's here). If it were me, I would skip the ganache for 'normal' cupcakes. It was just too much sweetness in one cupcake. But if you're absolutely dying for the ganache recipe, just ask me for it in the comments section.
Vanilla-Peppermint Cupcake Ingredients:
* 1 1/2 cups all-purpose flour
* 1 tsp. baking powder
* 1/4 tsp. coarse salt
* 1/2 cup whole milk
* 1 tsp. pure vanilla extract
* 1 tsp. peppermint extract
* 1/2 cup (1 stick) unsalted butter, room temperature
* 1 cup sugar
* 1 large egg , room temperature
* 2 large egg whites
1. Preheat the oven to 350. Line the cupcake pan with adorable cupcake liners.
2. In a medium bowl, mix all of your dry ingredients together. Sift if you must but I always skip that step.
3. In a medium bowl, mix the milk and extracts together. Set aside.
4. In yet another bowl (yes, I am trying to give you a mountain of dishes to wash. Sorry 'bout that), cream the butter. This involves beating the butter until it's light and fluffy. Normally, this takes around 3ish minutes. After the butter is creamed, start to add the sugar, 1/2 cup at a time until it's all in and fluffy.
5. Add the eggs to the sugar/butter mixture and beat on medium.
6. Drop the mixer speed to low and beat in 1/2 of the dry mixture. Now, beat in 1/2 of the wet mixture. Dump the rest of the dry in and the rest of the wet. Mix until just blended.
7. Spoon batter into cupcake tins, filling 3/4 of the way up. Bake for 20-25 minutes. Do not overbake. I did and they were a wee bit dry.
Vanilla-Peppermint Frosting:
* 1 cup (2 sticks) unsalted butter, room temperature
* 1/8 tsp. salt
* 3 1/2 cups confectioners' sugar
* 1/2 tsp. vanilla extract
* 1/2 tsp. peppermint extract
* 1/2 tsp. milk
Crushed Peppermint Candy Canes (I used a rolling pin to crush. It was a labor of patient love). I used at least 8 candy canes.
1. Cream the butter and salt (medium speed for about 3 minutes) until light and fluffy.
2. Reduce speed to low and add in the rest of the ingredients.
3. When cupcakes are cooled, frost the cupcakes.
4. Once the frosting is as smooth as possible, take a paintbrush and put into warm water. Paint the cupcakes smooth (or as smooth as you can get it.)
Left – painted smooth; Right – original
5. Put the crushed candy canes into a bowl and dip your wet, smooth cupcakes into the crushed candy canes until the cupcake is covered nicely with the crushed candy canes.
Store these in an airtight container. Leaving out in the open causes the candy canes to weep and melt.
Even niece dog Samantha wanted in on the cupcake action; the frosting is that good!
Sadly, cupcakes aren't for doggies so we got the pouty sad look. Don't feel bad for Samantha; we did give her a dog bone. =)