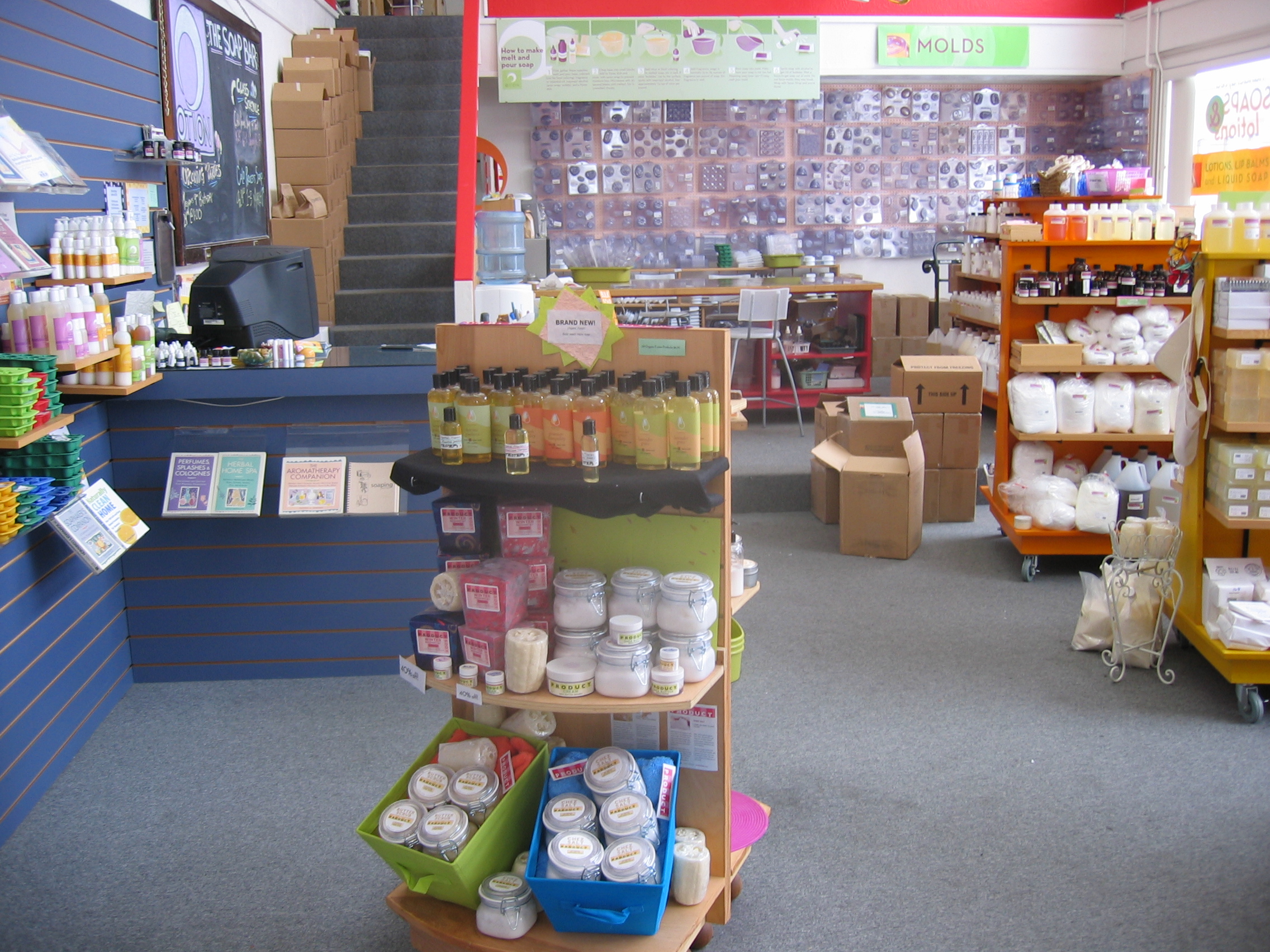 An interview with … me (!) about opening a craft store. This interview was done for a small business advice book that (to the best of my knowledge) was never published. I didn't want it to languish in the archives forever so am dusting it off to share with you!
What is the most important piece of advice you can give to someone who
is considering opening a craft store?
Budgeting is a mundane yet important part of opening a craft store. It is so much fun to think of all the items you'd like to buy, the signage, the displays, the branding and the overall look and feel of the store that it is easy to overlook the importance of budgeting and the prosaic aspects of spreadsheets. In my experience with opening a craft store specializing in soapmaking supplies (Otion), every little extra expense ended up adding up to a large amount of overages. If I had been more serious about my budget, I wouldn't have overspent in my opening months. 
Can you offer any insight into emerging trends in crafts?
With the economy being a little difficult right now, I'm noticing a trend towards staying home and making entertainment options at home rather than going out to dinners and movies. After all, it's cheaper to stay home and make bath fizzies with your family of 4 than it is to take them all to dinner and a movie. We've seen our business grow this year with more new customers than ever because of this trend. 
What is the biggest mistake you see new store owners make, and how can someone avoid making that mistake?
New store owners often neglect marketing and networking, thinking that advertising is enough to get the word out. Sadly, advertising alone will not drive customers to your store. You need to be ultra creative to ensure that your message gets out to the general public. For example, when we opened up our crafty soapmaking store in Bellingham, WA, we went to local restaurants and offered them customized soap products for their bathroom at a discount if we were able to put up a small sign stating were the soap came from. We did free classes every Wednesday at noon and heavily advertised the classes. We did coupons and frequent buyer punch cards. We joined the local Chamber of Commerce. More of our customers come from word-of-mouth than traditional advertising methods. 
If you are a craft store owner yourself, what is the one thing you wish
you had known before you started?
I wish I had known how long the day could be when not many customers come in. Some days, people just don't come into the store and finding things to do to keep busy for 8 hours can be tedious, demoralizing and downright boring. 
What has been the most rewarding aspect of your career as a craft store
owner?
I love talking and interacting with customers. Listening to their crafty and creative creations inspires and energizes me. The customers are the best part of the job! 
What has been your most effective marketing tool for generating new
business?
Blogging has been very helpful for our business. Otion blogs at http://www.otionsoap.com/blog.  We reach a wider audience through the blog than just our walk-in traffic allows and are able to have a conversation with our customers in a new and different way. Social media is an amazing tool that is really coming into its own, five years after I started Otion. Advertising is getting cheaper and cheaper because you can utilize social media to harness enthusiasm and eyeballs. 
Do you have any words of encouragement to offer new store owners?
Being self employed is the best thing I have ever done. I love being in control of my own financial destiny. Just remember that "how you do anything is how you do everything." The little things DO matter. Dusting, keeping a clean shop and greeting customers within 15 seconds don't seem like much on their own but taken all together, they help to ensure a friendly, welcoming environment. There are many little things that individually don't seem like a big deal but add up to a successful shop. Keep your business reading up. I love reading Fast Company and Inc. magazine and discussing business books with other small business owners. Having a network to turn to during difficult times is definitely one key to sticking it out through the long haul. You'll be glad you did.