Happy Monday, Soap Queen Team! I hope you all had a wonderful weekend. Some of the Brambleberrians and I started our weekend off right with an invigorating Pilates class. The fabulous instructors at Joy of Pilates in Bellingham hosted a Pilates party just for us on Friday (we felt so special). It was such a fun way to work off some excess energy that we had from sitting at our desks all day. We may or may not have gotten the giggles on several occasions (please also notice how nicely Courtney is posing for the photo).  Ella and Jen were our wonderful coaches and they led us through an hour of intense exercises and stretching. If you've never done Pilates before I would definitely recommend giving it a try. It's good for the mind, body and soul (and team bonding)!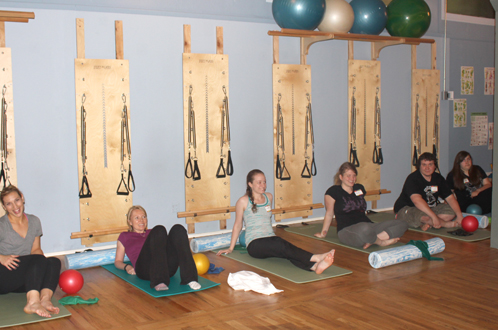 Courtney, myself, Elizabeth, Becky, Austin and Cheyen. Here we are ready to cut loose and have some fun!
This was the "smooshy ball" exercise.  You can't see it in the picture but we were all shaking like crazy! Holy abs!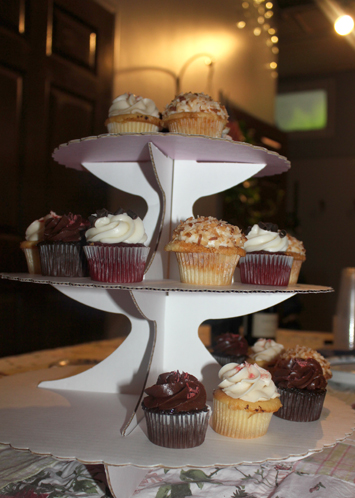 And then there were cupcakes. Sigh. My weakness. The good news is that they were mini so I didn't do too much damage. I just can't say no to  Icing On The Cake cupcakes. I did take one home and eat it for breakfast on Saturday morning (nothing like making great choices to kick off a weekend).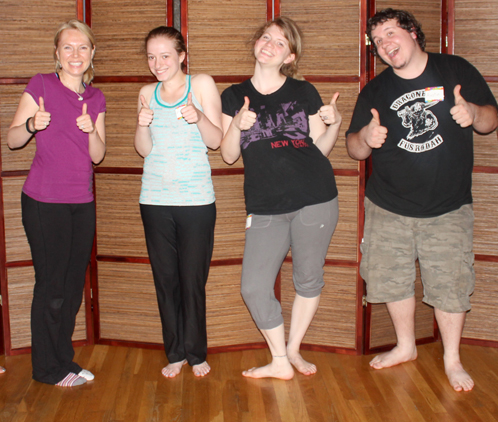 Bramble Berry gives Joy of Pilates two enthusiastic thumbs up. Can you tell we're feeling invigorated and energized (and/or goofy)? We were clearly on a pilates high!