I just wanted to give a shout out to Creative Soap Week. They're having a Winter Wonderland Soap Making Contest. The prize is $100 gift certificate to Bramble Berry! Check out the details and how to enter HERE. I can't wait to see what you come up with!
Also, in Bramble Berry news, we've added some new products:
dl-Panthenol
–
This white, powdered, water soluble conditioning agent is also known as Pro-Vitamin B5 and is super moisturizing to skin and hair care products. Add it to your hair conditioning recipe for extra sheen and shine (it's also known to help improve hair structure). Recommended usage rate is 1-5%. Starts at $3
Castile Liquid Soap Paste: This liquid soap paste is made up of 100% Olive Oil, which makes it an ideal hand and facial soap. Two pounds of soap paste can make up to seven or eight pounds depending on your dilution rate. Ingredients: Saponified 100% Olive Oil. Starts at $18. Also, in a high sudsing formula.
Mini Temperature Gun: This digital, infrared, non-contact thermometer is a must have for all soapmakers, from melt and pour to cold process. Temperatures range from -27ºF to 230ºF and responds in 1 second. Pssst…it even comes with a wrist strap (no dropping in the soap pot!)! $22.75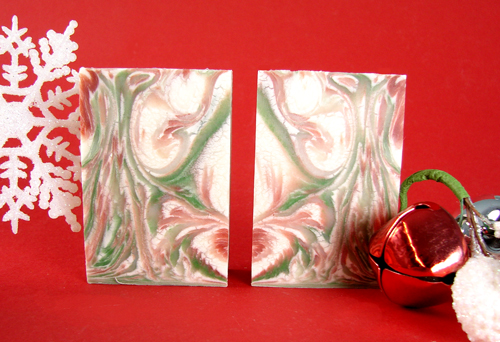 Two new Holiday Soap Loaves: Cranberry Fig and Sleigh Ride. Finished handmade cold process soap read to use, sell, or give as a gift. Shown above the Sleigh Ride is swirled with Merlot mica, Green oxide and Titanium Dioxide for a stunning result.