If you've visited TeachSoap.com recently, you'll notice it looks a little different.  If you  haven't seen it in a while, you should go check it out!  We've completely re-organized our projects, and given the website a fresh new look.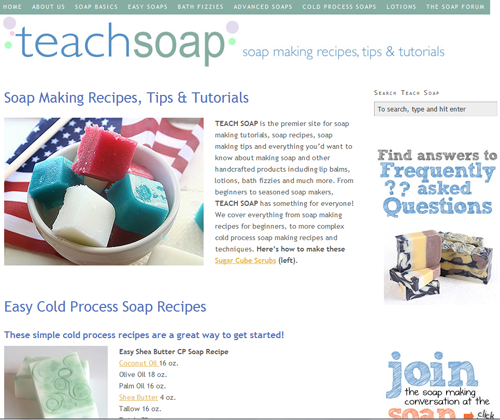 We've reorganized the categories to make everything a bit easier to find, so all our projects are under neat little headings.  We've also added a few projects, so you might find something new.
To get to the tutorials, just hover over the category you want, like "Cold Process Soaps", and select a project from the drop-down menu that appears. If you're just looking for general information, click on the heading itself for an introduction to the topic you've selected.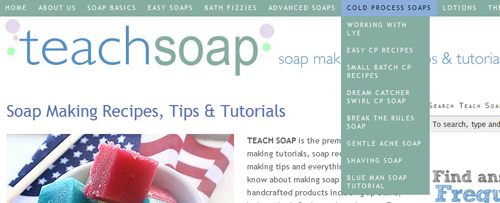 Teach Soap projects are also now searchable (a suggestion whose time has come). Looking for a project that has Jojoba oil in it?  Just type "jojoba" into the search bar on the right-hand side of the site and hit enter.  It's easy to find any project you're looking for.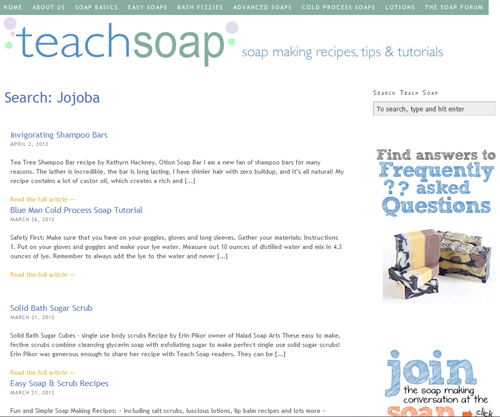 We've also updated the FAQ section to answer the most common soapmaking questions we've gotten over the years.  Just click on the picture of our gorgeous tamanu oil man soap to go to a list of frequently asked questions.  To see the answer to the question, just click "show the answer" and be enlightened!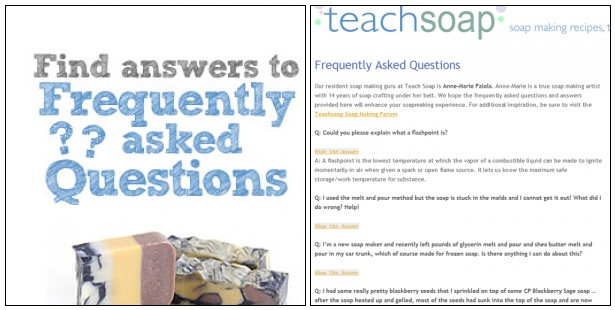 Of course,  you can still always access the forum right from here if you don't find the answer you're looking for. The link is in the upper right-hand corner of the site no matter what page you're on. Or, you can always find it through Teachsoap.com/Forum Let us know what you think about the redesign. We'd love to have your input on how we can make it even better!