Another week has gone by and I'm getting closer and closer to meeting our little Bramble Girl (I can't wait, less than three weeks!). In the meantime, I've been busy soaping and sewing up a storm and getting as much done as possible before she gets here. I've really enjoyed these product spotlights the past few weeks. Get ready to sparkle,  because I'm talking glitter! =) Glitter can be used to decorate your M&P soaps, the top of CP soap and will add a sparkle and magic to just about any project.   These glitters are not rated for use in eye or lip products (and they would be scratchy as all get-out), so be aware of that before you start a project.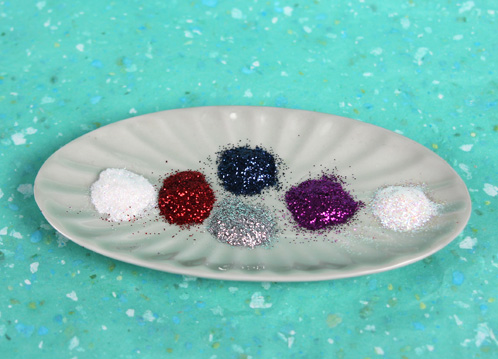 Did you know that Bramble Berry carries seven different kinds of skin-safe glitter? You can get Silver Glitter, Shredded Iridescent Glitter, Red Glitter, Navy Blue Glitter, Iridescent Glitter, Fuchsia Glitter, or even the Fine Iridescent Glitter for your super fun soapy projects. If you can't decide on which glitter to use for your project, check out this creative glitter sampler pack that will give you the chance to try six of our glitters. Or you can even try out the How To Color Glitter tutorial in which I used Bramble Berry's micas to color the Iridescent Glitter. You will be mixing for hours coming up with a unique color palette!
Looking for more inspiration? Check out these projects from the Soap Queen Archives that feature our glitters.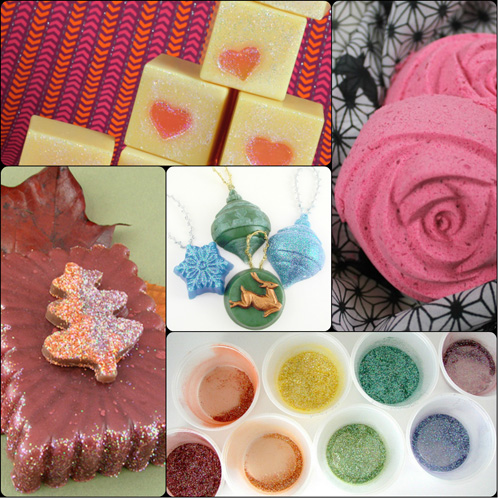 Starting Top Left Going Clockwise:  MP Loves CP, Sparkle Power Bath Bomb Tutorial, How to Color Glitter, Glitter Cut Out Soaps, & Painted Ornament Project
Have you used any of Bramble Berry's glitters in your soapy projects? Let me know in the comments below what your favorite use for it is. I'd love to be inspired by your projects.