I just had to share the cutest cupcakes that Amber (
of the bacon caramel brownie fame
) made for our Bramble Berry team lunch. We had a build-your-own-sandwich, beach themed social. Amber used crushed graham crackers for the sand and found darling little beach gummies for the toppers. Delish!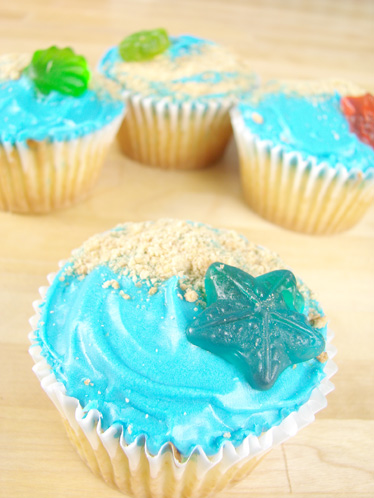 Also, this weekend is Bramble Berry's 3rd annual
Soap Weekend Intensive
. Erin Pikor, from
Naiad Soap Arts
, and Jude Birch, from
Aussie Soap Supplies
, are here in
Bellingham
prepping for their classes tomorrow and Sunday. I'm about to head over to
Otion
to prep for my melt and pour intro class this afternoon. Did I mention that this is the BEST weather that we've had all summer? It's going to be a  beautiful and jam-packed weekend full of soapmaking, creativity, laughs and cupcakes (of course)! I can't believe this weekend is
finally
here! I'll be sure to keep you updated with all of the fun projects. If you follow
my TwitPic stream
or
follow me on Twitter
, you'll be kept even more updated. I'll tweet and post the fun projects.  Happy Soaping!