We all have clothes in our closet that we haven't worn for a while or in my case, years. Taking advantage of natural pack-rat tendencies, Bramble Berry hosted a three-week clothing drive for Northwest Center, a non-profit organization that runs after-school programs for children with disabilities and helps adults with disabilities find meaningful work. 100% of the donations to the foundation goes to help, grow and sustain their worthwhile programs. Our team knew they could clean their closets to help this great Pacific Northwest organization.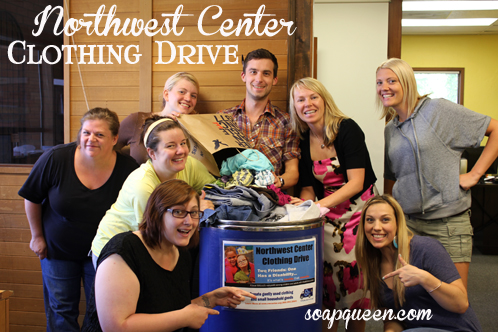 Pictured from left to right:
(back row) Tina, Michelle, Becky, Mark, Me, Christina
(down in front) Rachel, Courtney
We were so delighted when final tally of donations came in: Team Bramble Berry donated over 250 pounds of clothing for the Northwest Center! Everyone from customer service to the warehouse to manufacturing chipped in, bringing their gently-used clothing. I may or may not have exchanged a crisp $50 bill in donation for a particularly cute pair of red shoes Michelle from Processing brought in.
Team Bramble Berry makes me proud by living our
core values
and donating their personal time and resources for great causes. Earlier this year they bowled for
Big Brothers Big Sisters of Northwest Washington
(they won the most enthusiastic team award, you can check them out
here
) and participated in the
Whatcom Literacy Council's
 16th Annual
Trivia Bee
. And, this week is Bramble Berry's annual Salvation Army shopping trip, where we pick families in need to help out and go Christmas shopping for them (it's one of my most favorite things about December). I'll be posting about that as soon as possible, but in the meantime you can check out last years shopping trip 
here
.