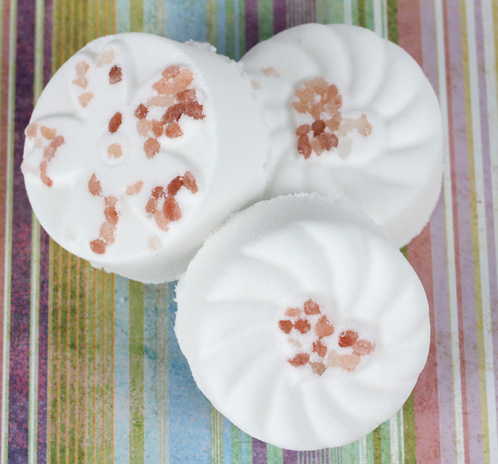 Here is the official Master List of Swappers for our March 2012, first ever Bath Bomb swap. We will keep this list updated with the fragrances being used and we will also note when we've received your soap.
What's a bath bomb swap you ask? Basically, you send us 12 handmade bath bombs and we send you 12 different bath bombs back. We don't charge anything but postage to and from for this fun community event. Read about all the details, including size and date deadlines, here.
Interested in signing up? Just email us with what Bramble Berry fragrance or essential oil you are going to use (check the list below to make sure no one else has claimed your scent).
Priscilla – Received – Baby Rose, White Tea & Ginger, Yuzu Cybilla, Plumeria
Laura – Received: Oatmeal, Milk & Honey
Carrie – Received – Energy
Maria – Honeysuckle
Austi – Lemon Cake
Mariah – Received –  Sweet Meyer Lemon and Vanilla blend
Tammy – Received –  Frankincense and Myrrh Cybilla
Lisa – Received –  Cherry Almond Surplus
Ashely – Received –  Kumquat
Amy – Received –  Island Coconut and Lime blend
Laurie – Received –  Energy
Caron – Received –  Tropical Punch
Tony – Received –  English Rose
Ashton (8 years old!) Received –  Bubble Gum Flavor Oil
Donna –  Gardenia
Sherry – Received –  Sweetgrass
Dana – Received –  a blend of: Fresh Bamboo, Lavender Essential Oil, Grapefruit Essential Oil, Sweet Orange Essential Oil
Lauri – Received – Chocolate Espresso Cybilla
Mellissa – Received – Sore Muscle Synergistic Essential Oil Blend
Anntoinette – Received – Strawberry
Ashley – Received – Island Coconut
Marlene – Received – Fresh Bamboo
Kelly –
Carol – Received – Sea Moss
Jessica and Rose – Received – Blackberry Yuzu Blend and Blackberry Ginger Ale Blend
Karen – Received – Almond Biscotti
Holly – Received – Strawberry and Champagne Blend
This is a great way to improve your craft, to expand your community and try 12 other recipes – all for the price of postage. We'd love the company. Join us!