Prize: One ounce of the following liquid colors; Violet, Brown, Toxic Waste, Pink, White, Blue, Non-Bleeding Red, Yellow Jelly, Black, Green, Orange, Red Oxide, Red Jelly and Liquid Yellow. PLUS two plastic (slightly less than perfect) loaf molds and three surprise (also slightly less than perfect) ELF molds!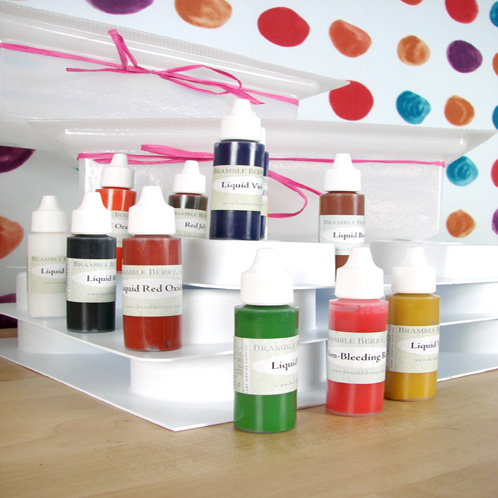 $75 value prize!
Cause
:
Oppose the "Safe Cosmetics Act"
Contest
:
There are three ways you can enter the contest. Do all three and get three entries into the drawing!
ONE:
Tweet a link to my blog post on the Safe Cosmetics Act: 
"Safe Cosmetic Act" Not So Safe For Small Biz
.Make sure to @brambleberry me at the end of the tweet so I see it. =)
TWO:
Post a lnk to the 
Safe Cosmetic Act blog post
on your Facebook page. Be sure to tag the post with @brambleberry so we can count your entry.
THREE:
CC or send me a copy of the letter you write (or have already written) to your representative stating your opposition to the act. Email letters to
info(at)brambleberry(dot)com
. Or just post the letter to your blog
like Marmalade Hills did
and comment to let me know the link.
Deadline: You have until Friday, August 6th to spread the word and write your representative. I'll draw a name out of the proverbial hat Friday morning. Good luck!
PS – If you've been following Elin Criswell's Kickstarter project – Soapmaking and Beyond – she has 6 hours left to raise $335 and meet her goal to publish a soapmaking book. You can click here to learn more.