We've been full of big news lately, from finding out that we're having a baby girl (eek!) to launching this year's Bramble Berry Athletic Club, there's been a lot of happy hustle and bustle and I couldn't be more excited. But before you go thinking that's all I've been busy with, there's another big announcement…a secret I've been keeping for almost a year now:
I'm writing a book!!(!!!!!!!!!)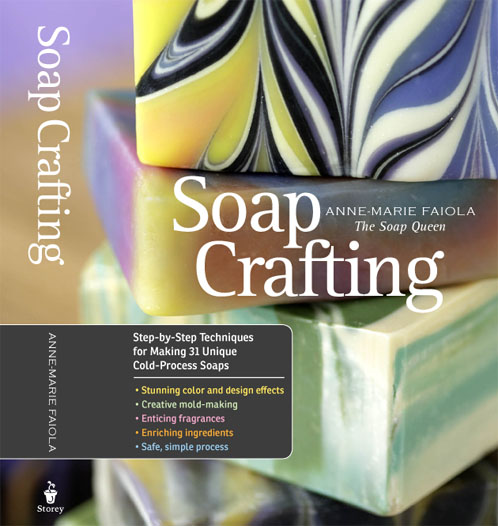 I've been working with the fabulous team at Storey Publishing on my new print book, Soap Crafting. It has been an amazing, mind-blowing, grueling, exciting experience so far (really, a little bit of everything). The book contains 31 Soap Queen designed and tested Cold Process soap recipes that I hope will knock your socks off. The book shows how to infuse natural colorants, how to dilute and work with LabColors, incorporate fun additives and even includes a glossary of soapmaking terms. Plus, for beginners, there is a ton of introductory information about making Cold Process soap, a basic beginner recipe AND a breakdown of common soap making oils. Whew!
The book is due to come out in August (three months after Bramble Girl is due to arrive if you're keeping track!), which feels like such. a. long. time. But as the book comes together, I'll be giving regular updates on its progress.
For now, here's a sneak peek behind the scenes of the book's photo shoot back in October. We worked with the amazingly talented Oregon-based photographer Lara Ferroni. L's specialty is food photography and photographing recipes-in-progress, which made for a natural transition to soap making photography. Plus, she's written some great books herself and at the time of the photo shoot was in the process of finishing up yet another, so chatting with her about the book writing process (and all of the deadlines!) while she was taking photos made the experience especially relaxing. Lara's eye was keen; a slight turn of a bottle or the tiniest nudge of a spoon made all the difference in the shots. She was kind enough to allow us to share some of her photos from the shoot, and our behind-the-scenes shots pale in comparison!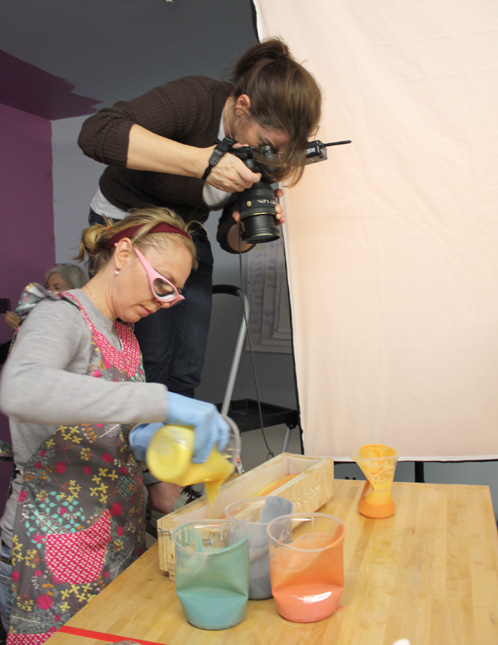 The shoot itself was a marathon. Five days straight of soaping anywhere from 5-7 complex recipes per day was definitely fun but also required a TON of organization. Prep for the photo shoot started a few weeks in advance, with multiple people helping. All of the oils were pre-measured and portioned, colorants were dispersed, and everything was organized by recipe and recipes were scheduled by hour to make the most efficient use of molds. So when it came time to shoot, there was a (mostly) seamless transition between recipes and I was able to re-use most every mold from what we had in the soap lab.
Lye waiting for it's beauty shot – with proper safety note of course!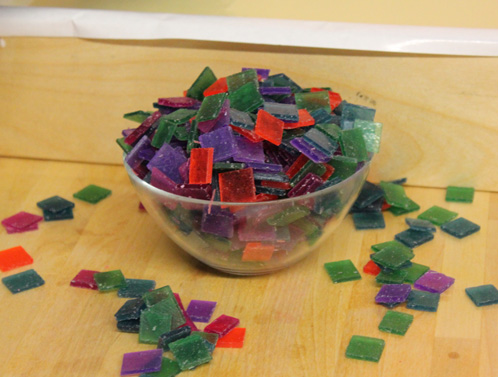 Toppings for a Cold Process meets Melt and Pour recipe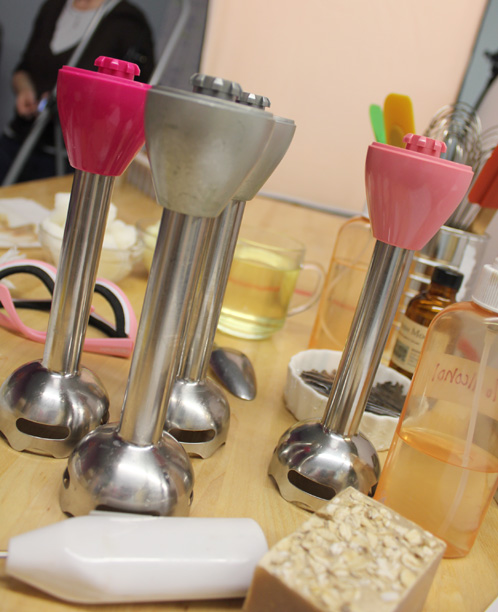 Lots of back-up tools
12 color swirl (yes, you read that right!)
In-the-pot swirl soap going into the mold
Blowing on mica to set it in the soap
Just adding the last little bit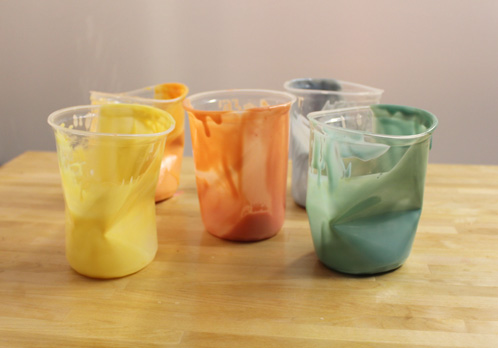 Empty, colorful soap containers; a beautiful thing
And now, here's a sneak peak at some of the finished soaps from the book! We did the photography here so you'll have to imagine it 190 trillion times better than what you see below for the actual book. If I haven't mentioned it already, the book's photographer, Lara, was ah-maz-ing. Like breathtakingly awesome. =) I can't tell you how excited I am to show you even this little bit. I hope you're as excited as I am about this bit of news, and be sure to check back often to see the books progress between now and August!