Experimenting with various soap ingredients is part of what makes soap making so much fun. In addition to scent and shape, adding color to soapy creations gives your product personality and flair. Luckily there are plenty of colorants to choose from, including LabColors, pigments, micas and natural colorants such as clays. If you prefer to use natural colorants, madder root powder is a great orange-red colorant option for both cold process and melt and pour soap.
A plant species in the genus Rubia, madder (INCI: Rubia tinctorum) is a climbing plant with small flowers and long roots. Madder root has been used for centuries as a dye for textiles and cosmetic products. Traces of madder have even been discovered in the tomb of the Pharoah Tutankhamun and in the ruins of Pompeii. The FDA requires approved cosmetic colorants to be used when specifically coloring cosmetics. Because madder root has not been approved as a cosmetic colorant, it should be used in soap for its herbal properties and not its inherent coloring ability. Madder root is considered not safe for infant products so do not use madder root with baby products.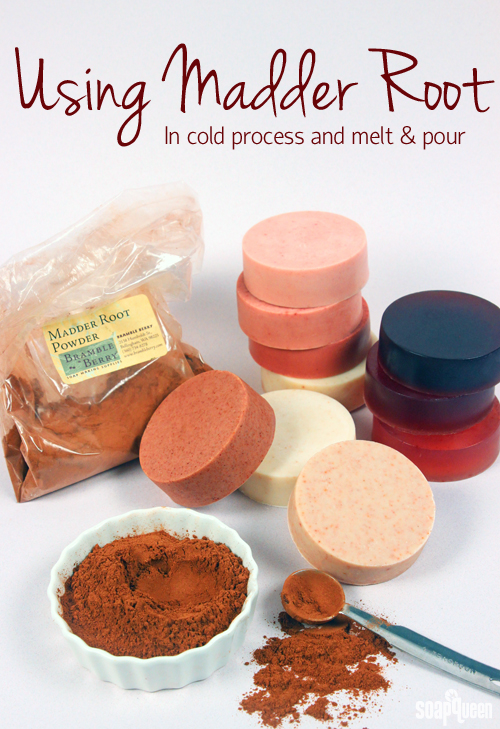 Rubia tinctorum contains the organic compound alizarin, which give the roots their deep red color. Alizarin is also used to create madder lake pigments, which are sometimes referred to as rose madder and alizarin crimson. Madder lake has been used for centuries by painters to give their pieces rich red tones. In 1869, alizarin became the first natural pigment to be duplicated synthetically.

In soap, madder root powder produces colors ranging from light pink, deep red and mauve. The color it produces depends on the type of soap, the amount used and production variables such heat and application. When using natural herbs in soap, the herbs can be added at trace or infused in the soap making oils for a speckle-free look. Some natural herbs such as indigo powder, benefit from reconstituting the powder in your lye solution.
To demonstrate the hues madder root produces, various usage rates were tested in both cold process and melt and pour soap. In this experiment, the madder root was dispersed in sweet almond oil at a rate of 1 tsp. madder root powder, to 1 tbs. sweet almond oil. A mini mixer was used to get rid of any clumps. The madder root mixture was then added to cold process soap during trace. No fragrance was used. The measurement on each soap refers to the amount of madder root mixture used in one pound of soap.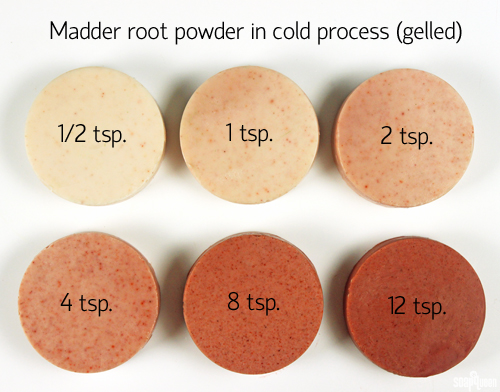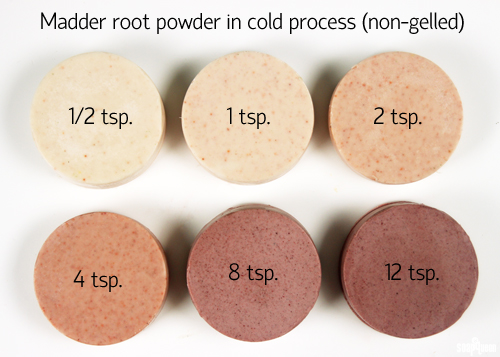 As you can see, heat plays a huge role in the color of madder root powder! In the first photo, the soap was placed on a heating pad and insulated to promote gel phase. In the second photo, the soap was not insulated and kept at room temperature. Going through gel phase produced a red hue, while the non-gelled soap is more mauve. Because the color was added at trace and not infused, the soap does have small speckles.
Gel phase has a similar effect on soap containing LabColors, micas and pigments; the colorants become much brighter, and the soap has a more translucent look. If you'd like more information regarding gel phase, check out the Jazzed About Gel Phase blog post. In particular, this blog post demonstrates the affect of gel phase on LabColors.
Below, madder root powder was added to clear melt and pour base and white melt and pour base. The madder root powder was dispersed in 1 tsp. madder root to 1 tbs. 99% isopropyl alcohol, and a mini mixer was used to help remove large clumps. The madder root mixture was added to melted soap.  The measurement on each soap refers to the amount of madder root mixture used in one pound of soap.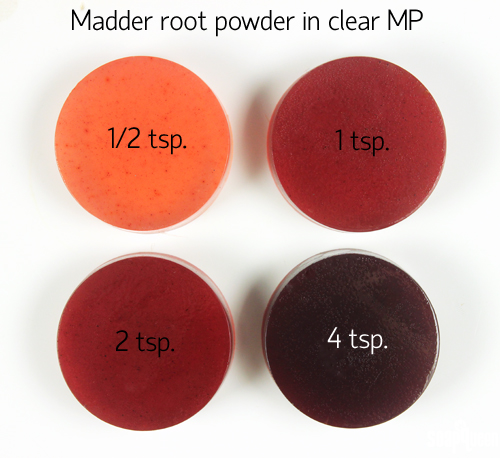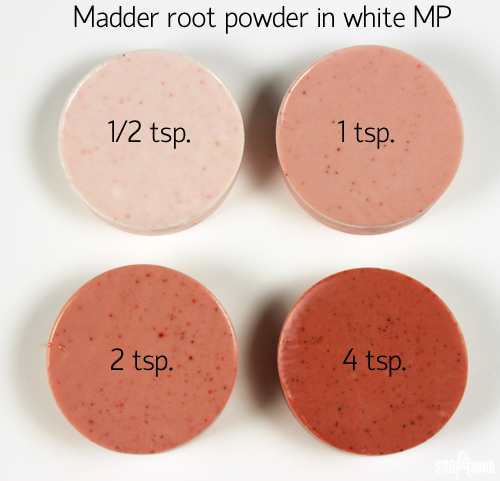 When used in white melt and pour, madder root powder gives a range of pink hues. In clear melt and pour, madder root powder results in more orange, deep red tones. Both are beautiful, rich colors. To help the madder root speckles suspend evenly, pour the soap no warmer than 125 °F.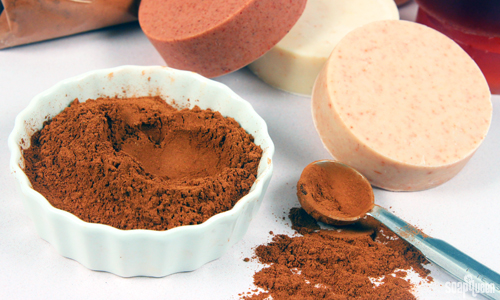 Looking for more information on using natural colorants? Check out the Sunday Night Spotlight: Natural Colorants blog post! Do you have a favorite natural colorant? I would love to hear your tips and tricks for using it!