Have you ever heard the term "burping your blender?" and then wondered what that means and how it applies to soapmaking? It's a super easy trick that I do every time I make cold process soap that helps prevent air bubbles in your CP soap. Try it on your next batch. You won't regret "burping". I promise!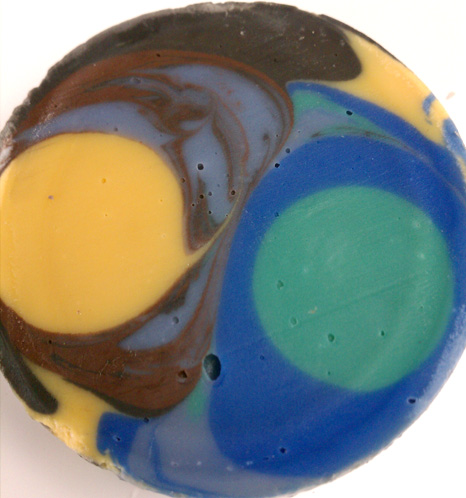 The cold process soap pictured above is a gorgeous combination of Brown Oxide, Yellow Oxide, Ultramarine Blue, Hydrate Chrome Green and Black Oxide. It's scented with an earthy combination of Patchouli and Spearmint. There is just one problem…those darn air bubbles! Either the trace was too thick when it was poured or (cough cough) 'someone' didn't burp their stick blender.  Here's how you burp your stick blender to avoid those pesky bubbles in your soap.
Burping: Before you turn the stick blender on to mix the oils and lye together, gently tap the stick blender on the bottom of the of your container until you see all of the air bubbles come out. Do you see that big air bubble below? You'll be glad you didn't whip that air into your soap when you cut the final bars.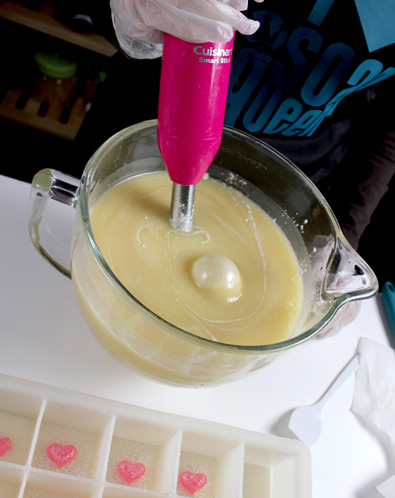 Check out that monster air bubble surfacing! 
Other Tricks: When combining my oils and lye I also like to pour the lye down the side of my stick blender. By letting the lye run down the side of the blender, you eliminate any splashes that could cause air bubbles. Kat from Otion also suggest keeping your temperatures on the lower side. She finds that super hot soap can cause the soap to bubble a little bit. Check out the lye and burping tricks in this episode of Soap Queen TV (you can fast forward to minute 3:50 to see the action). And if you have never made cold process soap, check out the series for beginners here!
How do you avoid air bubbles? Do you have any other ideas?