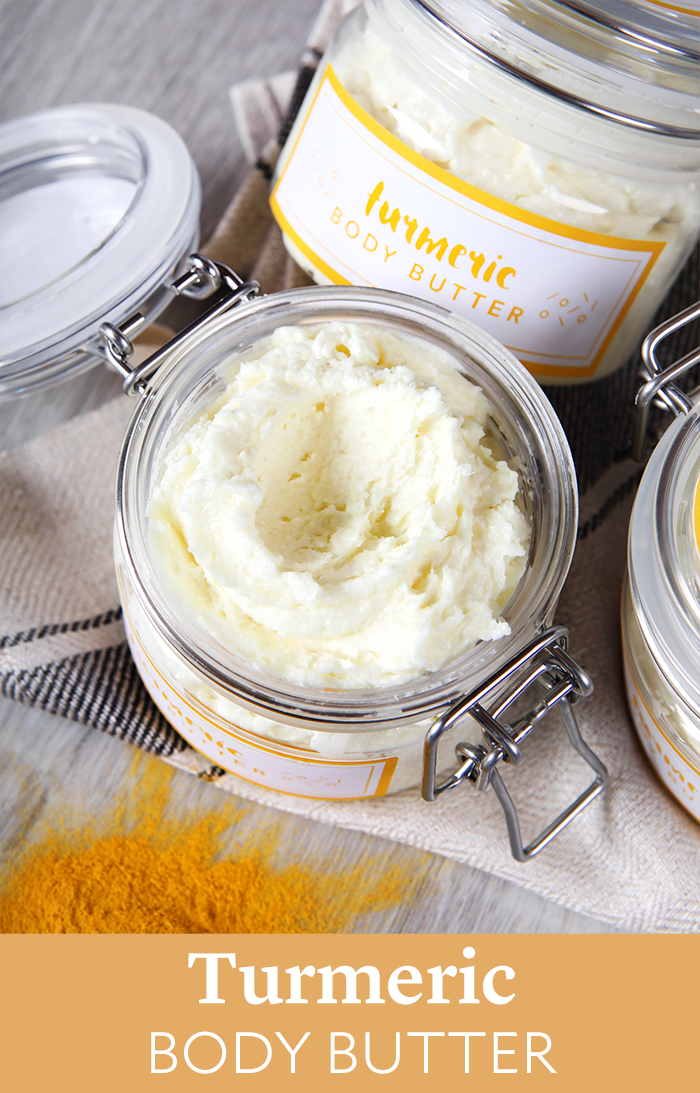 Handmade products don't have to be complicated. This Turmeric Body Butter has just a few ingredients, but they're all the right ones.
The main ingredient is new turmeric shea butter. It's a natural mix of moisturizing oils and turmeric root extract, which leaves your skin feeling smooth. The butter is from the Hygge Collection, which includes comforting scents and giftable packaging.
Arrowroot powder is added to create a fluffy texture and so the butter doesn't feel too greasy on the skin. The ginger essential oil blends wonderfully with the slightly spicy scent of the turmeric shea butter. The end result is a thick yet spreadable butter that is intensely hydrating.
The Turmeric Body Butter Labels give your jars a polished look so they're ready to give to friends and family. The labels match perfectly with the Turmeric Clay Face Mask. The mask and body butter make a great gift set.
Looking for more whipped body butter recipes? Here are a few of our favorites.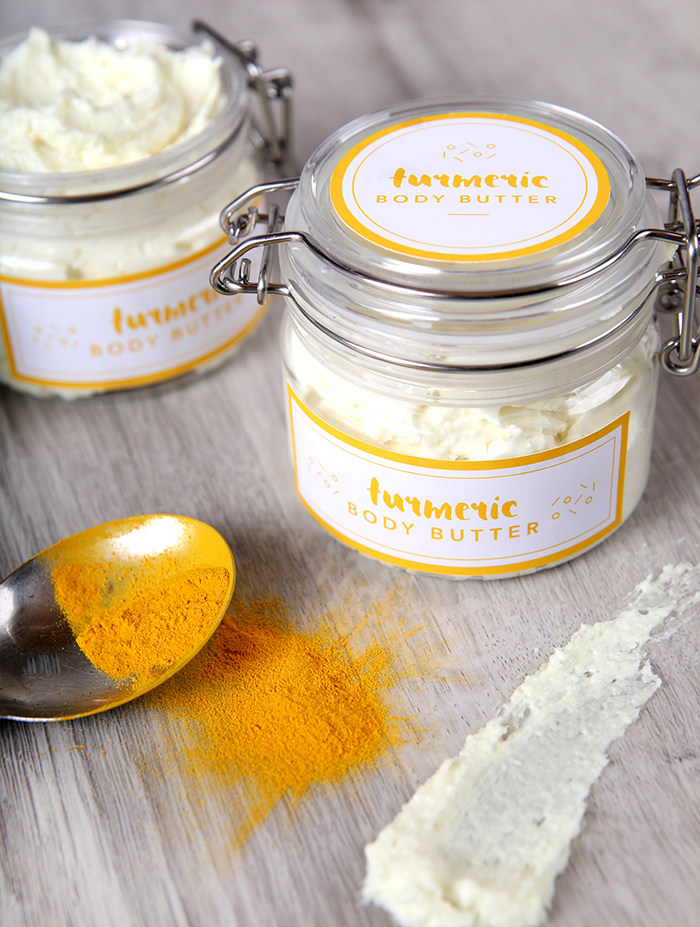 Turmeric Body Butter
This turmeric body butter is easy to make and it feels great on the skin.
Author: Bramble Berry
Recipe type: Body Butter
Serves: 20 oz. butter
Ingredients
Three 8 oz. Bail Jars
16 oz. Turmeric Shea Butter
3 oz. Coconut Oil
3 mL Ginger Essential Oil
2 Tbsp. Arrowroot Powder
Instructions
Place 16 ounces of turmeric shea butter into a large mixing bowl. Turn your mixer on medium and begin breaking up the butter. Continue to mix until it softens.
Add 3 ounces of melted coconut oil to the mixing bowl. Use a spatula to mix in the coconut oil slightly.
Turn the mixer on low and mix in the coconut oil. Gradually begin to increase the speed and mix for about 1 minute until the butter and coconut oil are combined.
Add 3 mL of ginger essential oil and 2 tablespoons of arrowroot powder. Use a spatula to gently fold in the powder. Then, use the mixer to whip the butter for about another minute to fully incorporate all the ingredients.
Use a spoon to transfer the butter into jars. To use, place a small amount of butter on dry skin and rub in to absorb. Store this butter in a cool, dry place. If you live in a very hot climate, you may want to store the butter in the fridge to prevent melting. Enjoy!