Sure it's August, but with a 4-6 week cure time, it's not too early to start prepping for the holiday season. If the holiday of ghouls, ghosts and things that go bump in the night is your thing, this whimsically creepy eyeball-inspired soap may be right up your (dark) alley. This soap incorporates a simple swirl technique, as well as the use of condiment bottles to create the cutely creepy "eyes" on top. We fragranced this soap with the Tart Apple Fragrance Oil, which was chosen by our 2013 S.O.A.P. Panel for its distinctive tart, fruity notes. In this soap, it brightened up the darker Fall color scheme, which is one more reason this soap is perfectly festive for Fall!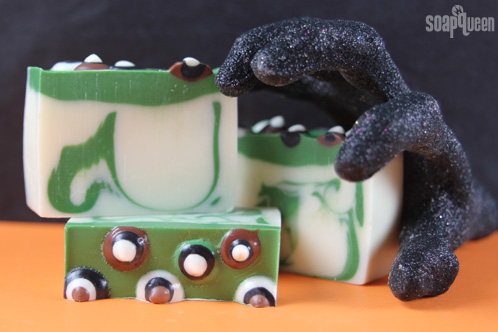 What You'll Need:
 2.2 oz. Avocado Oil
1.1 oz. Castor Oil
5.5 oz. Coconut Oil
5.5 oz. Palm Oil
7.7 oz. Rice Bran Oil
3 oz. Sodium Hydroxide
7.2 oz. distilled water
1.4 oz. Tart Apple Fragrance Oil
2 lb. Wood Log Mold with Silicone Liner

Click here to add everything you need for this project to your Bramble Berry shopping cart!
Extra equipment that you need: empty (clean!) condiment bottles plus all the normal things like bowls, spoons, spatulas, stick blenders and a whisk.
If you've never made Cold Process soap before, stop here! I highly recommend checking out our FREE four part SoapQueen.tv series on Cold Process Soapmaking, especially the episode on lye safety. And if you'd rather do some reading, Bramble Berry carries a wide range of books on the topic, including my newest book, Soap Crafting. You can also checkout the digital downloads for that instant gratification factor.
COLOR PREP: Disperse 1 teaspoon of Brown Oxide into 1 tablespoon of Sunflower or Sweet Almond Oil (or any other liquid oil), 1 teaspoon Black Oxide into 1 tablespoon of liquid oil, 1 teaspoon Titanium Dioxide into 1 tablespoon of liquid oil and 1 teaspoon Green Chrome Oxide in 1 tablespoon of liquid oil. Use a mini mixer to get clumps worked out smoothly.
SAFETY FIRST: Suit up for safe handling practices! That means goggles, gloves and long sleeves. Make sure kids, pets, and other distractions and tripping hazards are out of the house or don't have access to your soaping space. Always soap in a well-ventilated area.
ONE: Slowly and carefully add the lye to the water and gently stir until the lye has fully dissolved and the liquid is clear. Set aside to cool.
TWO: Combine the Avocado, Castor, Coconut, Rice Bran and Palm Oils (remember to fully melt then mix your entire container of Palm Oil before portioning). Once the lye water and the oils have cooled to 130 degrees or below (and are ideally within 10 degrees of each other), add the lye water to the oils and stick blend until thin trace. If you'd like a harder bar of soap that lasts longer in the shower and releases faster from the mold, you can add Sodium Lactate to the cooled lye water. Use 1 teaspoon of Sodium Lactate per pound of oils in the recipe.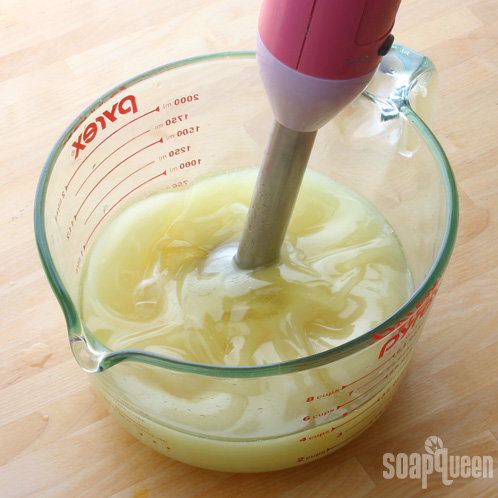 THREE: Reserve some soap to make the "eyes" by pouring off about 1 oz. of batter each into three condiment containers.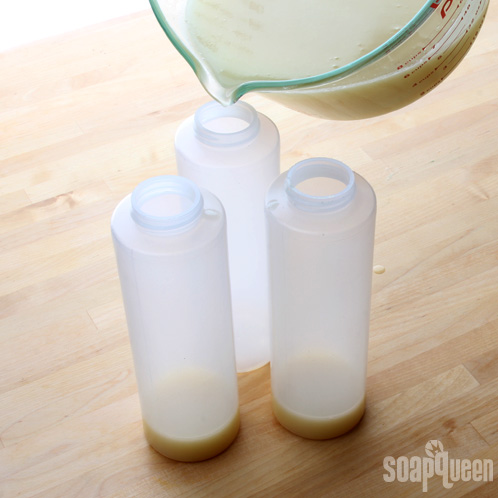 FOUR: Add 1/4 teaspoon of dispersed colorant to a single bottle. Only add one colorant per bottle. With gloved hands, screw the cap on and plug the hole with your finger and shake the bottle to fully disperse the colorant into the batter. Release your finger with the tip **pointing away from your face.** Set the bottles aside for now.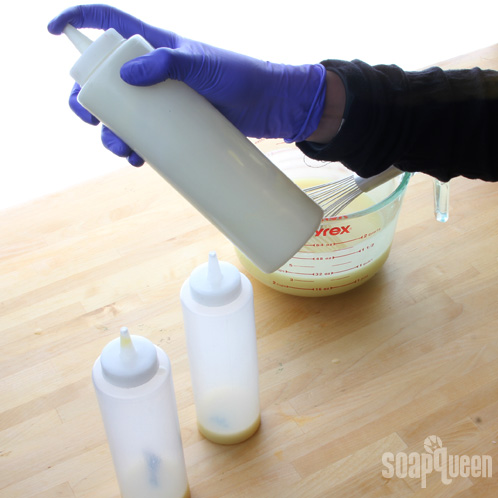 FIVE: Pour off about 1 cup of batter from the main batch.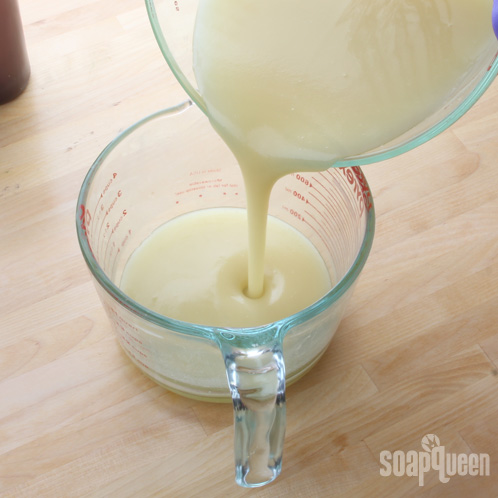 SIX: In your newly poured container, whisk in 1 teaspoon of dispersed green colorant. In the original container, whisk in 2 teaspoons of dispersed white colorant. The white helps to provide fantastic contrast to the deep green.
SEVEN: Add roughly half the fragrance oil (.7 oz.) to the green batter and the remaining fragrance oil to the white batter. To avoid accelerating trace, use a whisk or a spoon to combine the fragrance oil and batter. Do NOT fragrance the condiment bottle soap. You want this soap to be as fluid as long as possible.
EIGHT: Pour roughly 3/4 of the white soap into the mold. Tamp the mold on the table several times to disperse air bubbles.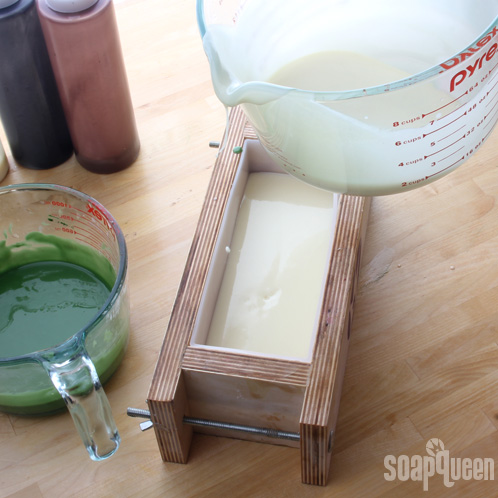 NINE: From a high point, pour about 1/3 of the green soap into the center of the  mold. Pouring from high up will create the streaks of green color you see in the final soap.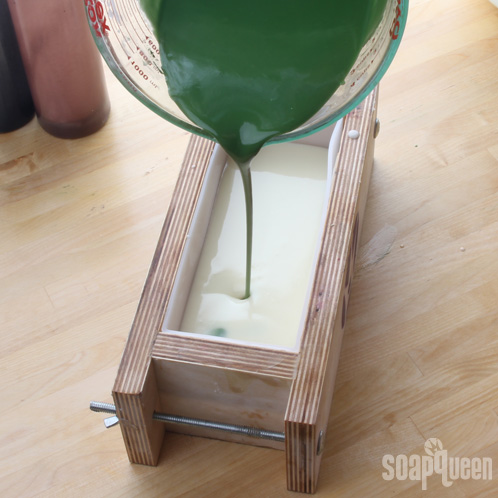 TEN: Use a spatula to scrape the last remaining white soap from the container into the mold. (Bonus tip: We're using one of our brand new Bramble Berry exclusive silicone tools. Pick one up for yourself here.)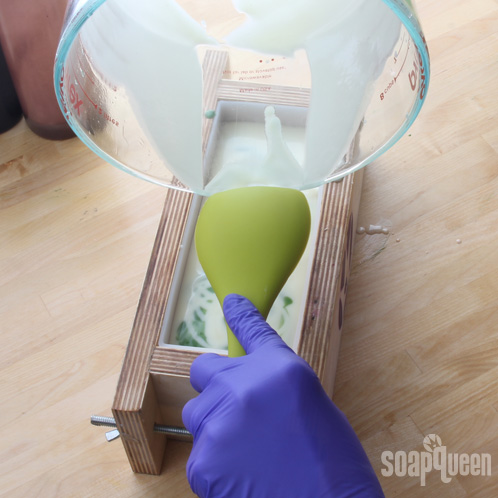 ELEVEN: Pour the remaining green soap over a spatula (or the nifty amazing square spoon spatula thing pictured below) so as not to disturb the white soap below. Smooth the green soap in the mold to get a nice, even layer.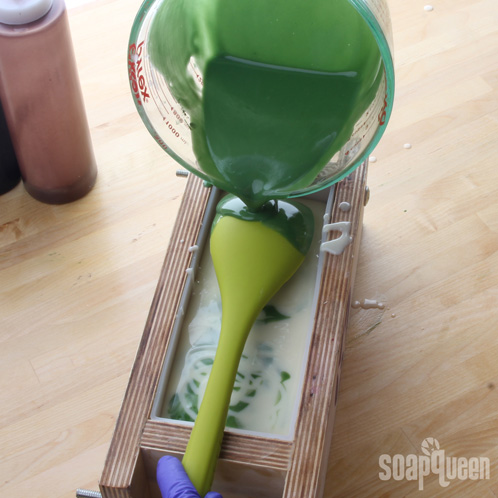 TWELVE: Take your colored condiment bottles and make small, dime-sized dots of color on the surface of the soap. We layered the colors on top of each other in a random order to get a fun assortment of "eyes."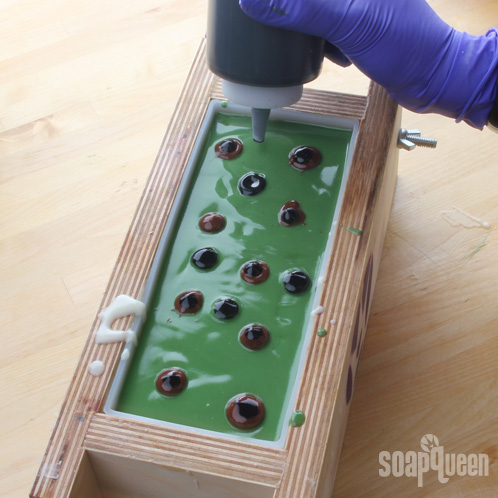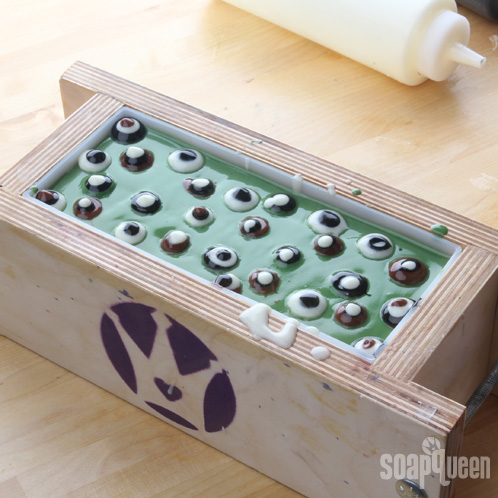 THIRTEEN: Spray the entire top with 91% Isopropyl Alcohol to reduce soda ash. Cover and insulate for 24 hours and unmold after 3-4 days. Allow to cure for 4-6 weeks and enjoy this spooky soapy delight.