The sparkly tutorials continued this week with projects featuring Rose Gold Mica. This colorant has tones of pale rose and glamorous gold, making it the perfect choice for makeup. The Rose Gold Cosmetic Collection tutorial shows you how to make rose gold eye shadow, lip shimmer and nail polish. Wear these products individually for a warm pop of color, or together for a cohesive look. In addition, a wide variety of micas including the Rose Gold are now 20% off until October 16th with the code: MAGIC20. Click here to see all the sale micas.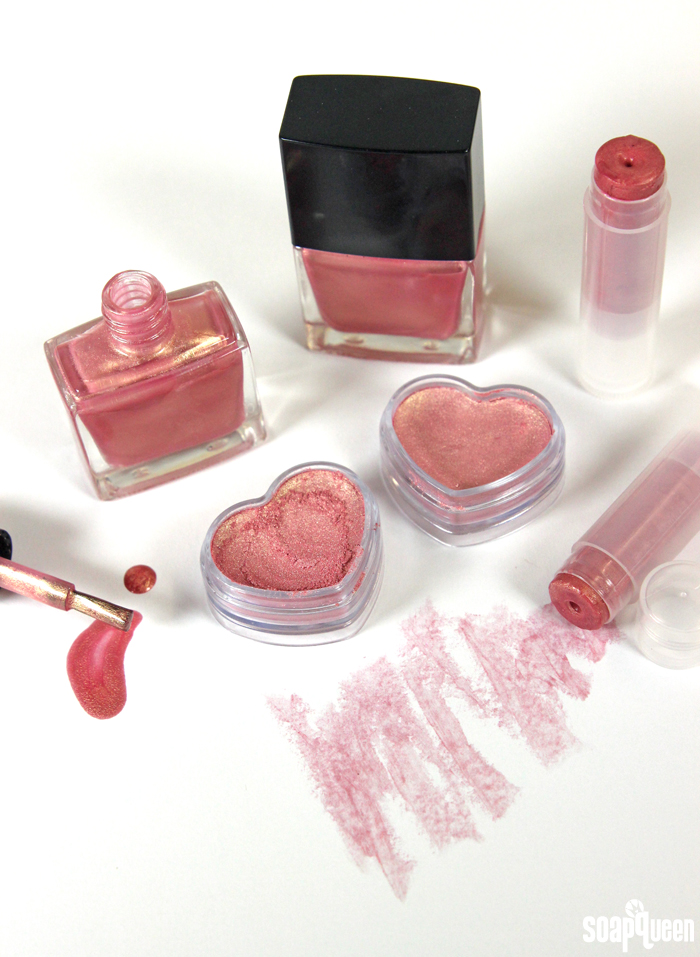 Rose Gold Mica is also perfect for creating shimmery melt and pour projects. In the Romantic Rose Gold Melt and Pour Bars, the pink hue is complimented with King's Gold Mica and Luster Black Mica to create a sophisticated bar. Filling in the details of the Tray Floral Wallpaper Mold can be a little tricky, but droppers make it simple. Having a bottle of rubbing alcohol nearby helps the layers stick together. For more tips on layering melt and pour, check out this Soap Queen TV video.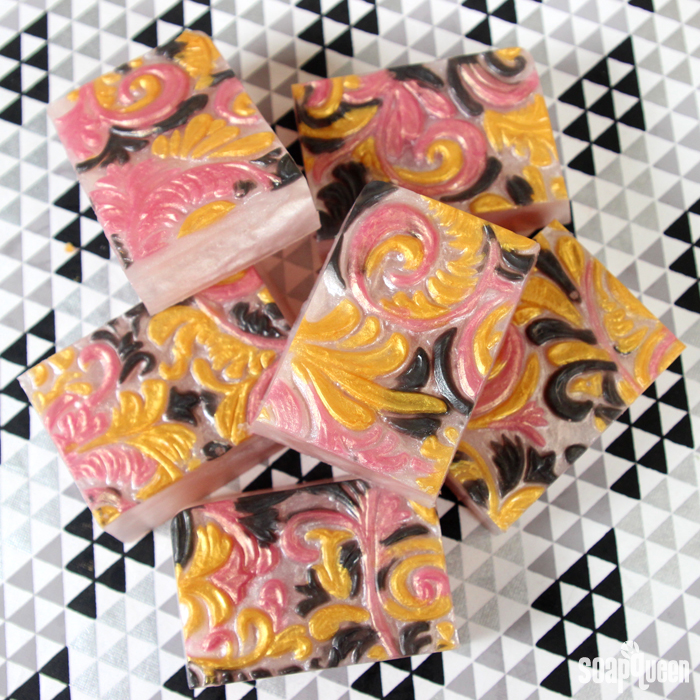 Why should your products have all the sparkly fun? With a little glue, glitter and tape, your soap packaging can be full of shimmer as well. Learn how to take your soap boxes from simple to ultra-glam in the How to Dress up Soap Boxes with Glitter post. This technique works well for a wide variety of packaging options, including jars and tins. Beautiful packaging really elevates the presentation of your products.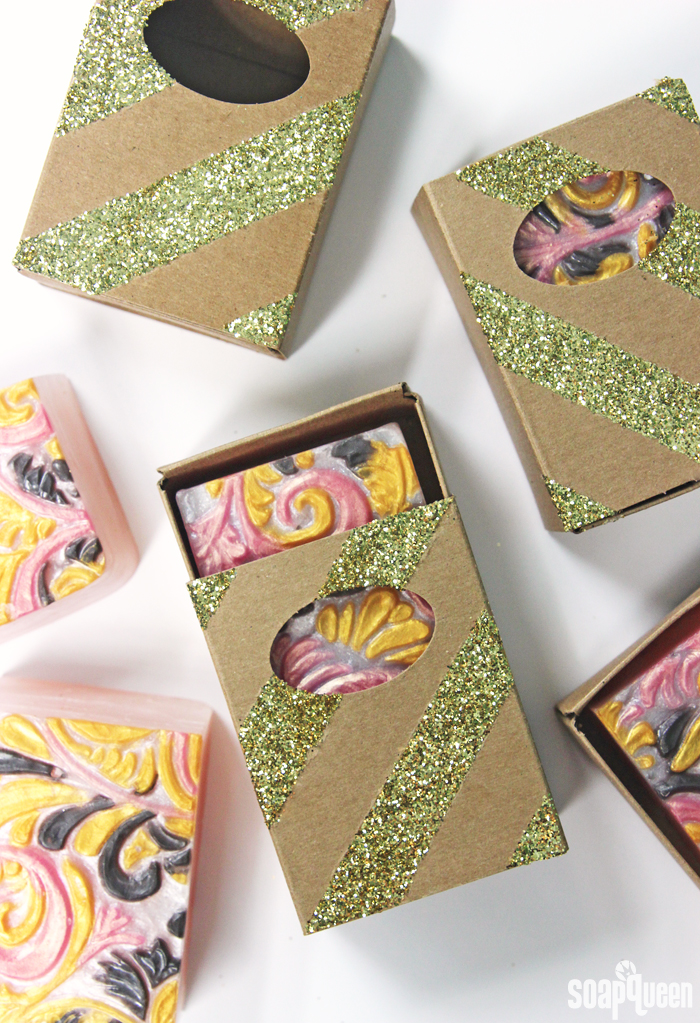 Linda O'Sullivan knows how to make her projects shine, without or without sparkle! In this interview, Linda shares how she became a soaper and what inspires her. She also shares tips and tricks for creating gorgeous soap photos, as seen on her Instagram page. If you're looking for more photography tips checkout this post from Zahida of Homemade in Florida.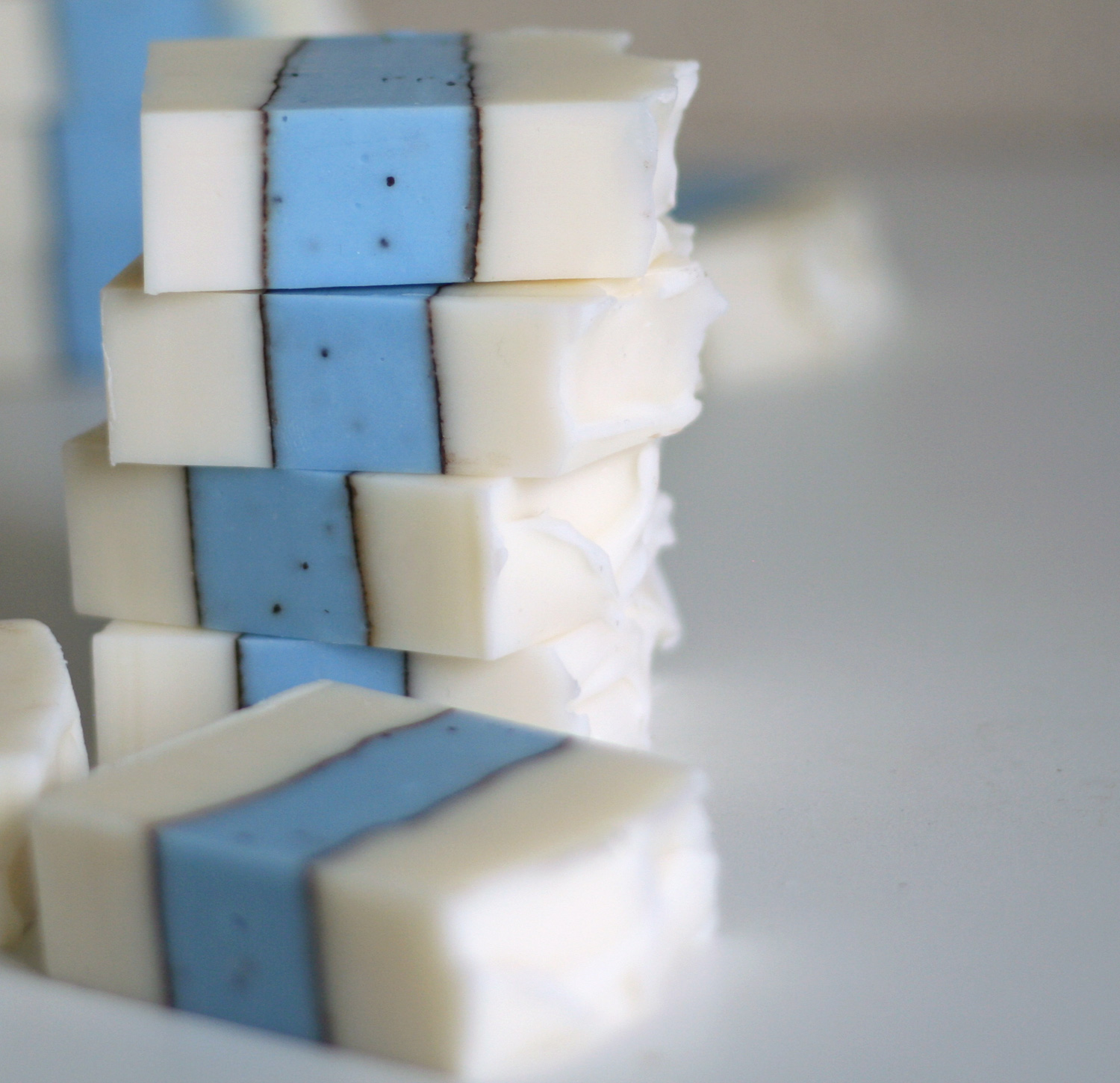 This week marked the first week of fall, making it the perfect time for autumn projects. But that doesn't mean there isn't room for gorgeous floral soap! This week's Facebook Photo of the Week by Mango Fleur Soap Bath & Body proves that pastels and flowers are beautiful year round. I love the thick layers combined with chunky floral embeds. If you're a fan of florals, check out the Rose Garden Cold Process Soap Tutorial.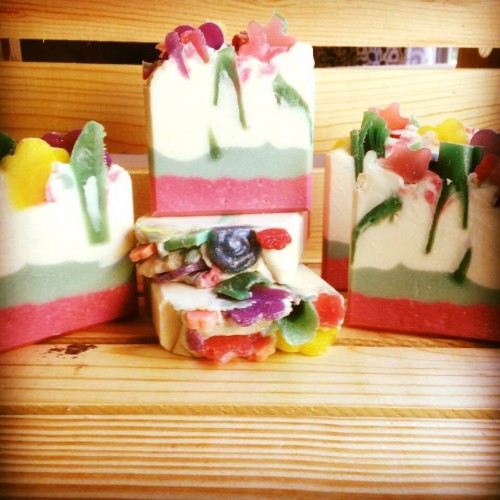 Below are some of Mango Fleur's gorgeous cold process soaps. I love the playful use of embeds and masterful application of color. Embeds add so much personality to soapy projects! If you're looking for more embed inspiration, check out the Emerald Swirl Cold Process Tutorial. This project uses melt and pour to accent the top of each bar. If you'd rather use cold process, the Neon Embed Cold Process Project will be right up your alley.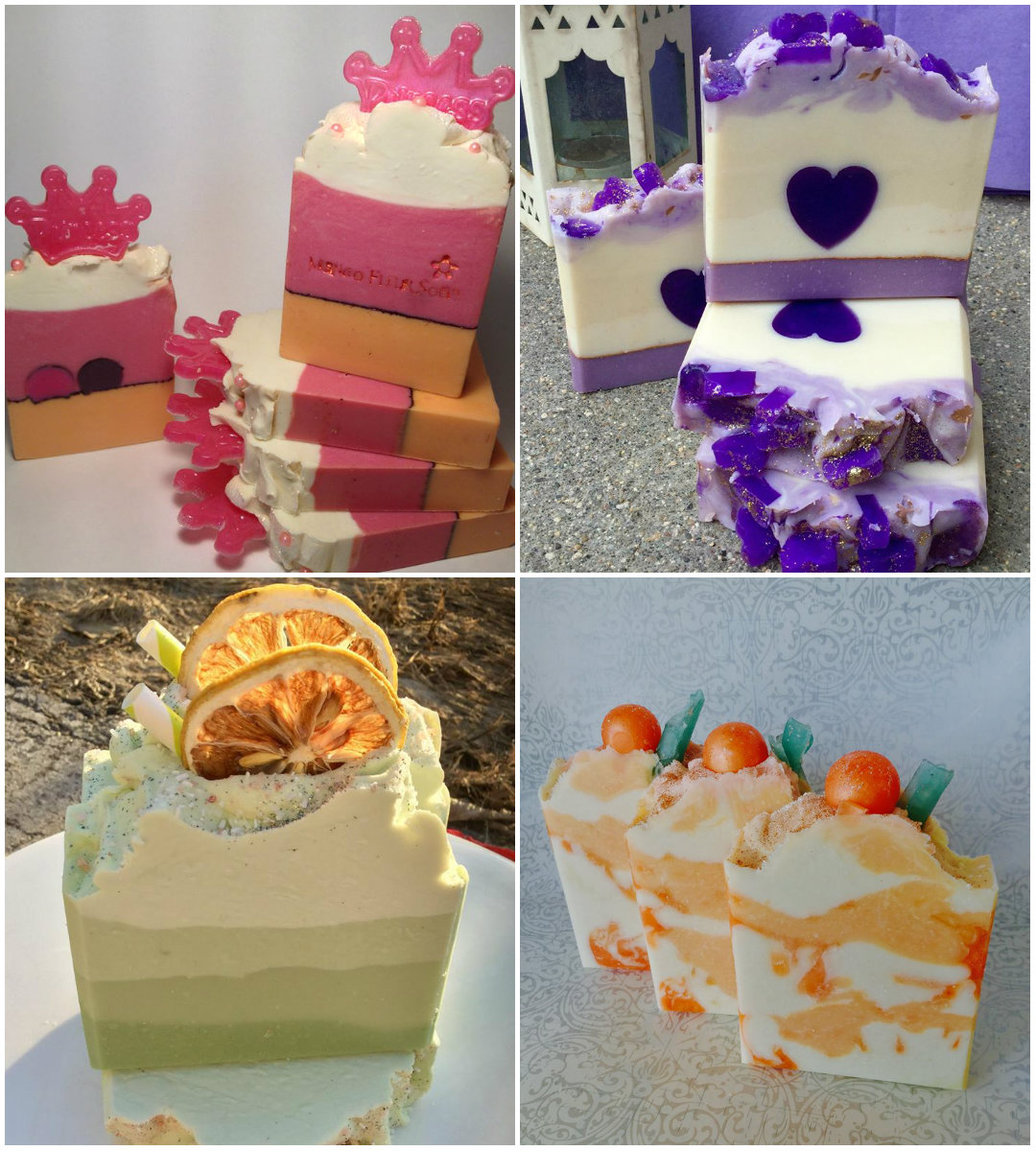 From top left, clockwise: Pink Sugar Secret Soap, purple soap with heart embeds, Extra Bubbly Margarita & Cracked Pink Sea Salt Soap, Orange Sorbet Cold Process Soap
Find Mango Fleur Soap Bath & Beauty
On Facebook
On Instagram
This week's Instagram Photo of the Week is this gorgeous Silver Lining Castile Soap by Sweet Escape Soap. Scented with frankincense & myrrh, this soap features a gorgeous textured top. The key to this technique is a thick trace. I love the addition of glitter and small silver embeds. These will be amazing holiday gifts. See more beautiful soap by Sweet Escape Soaps on their Instagram page.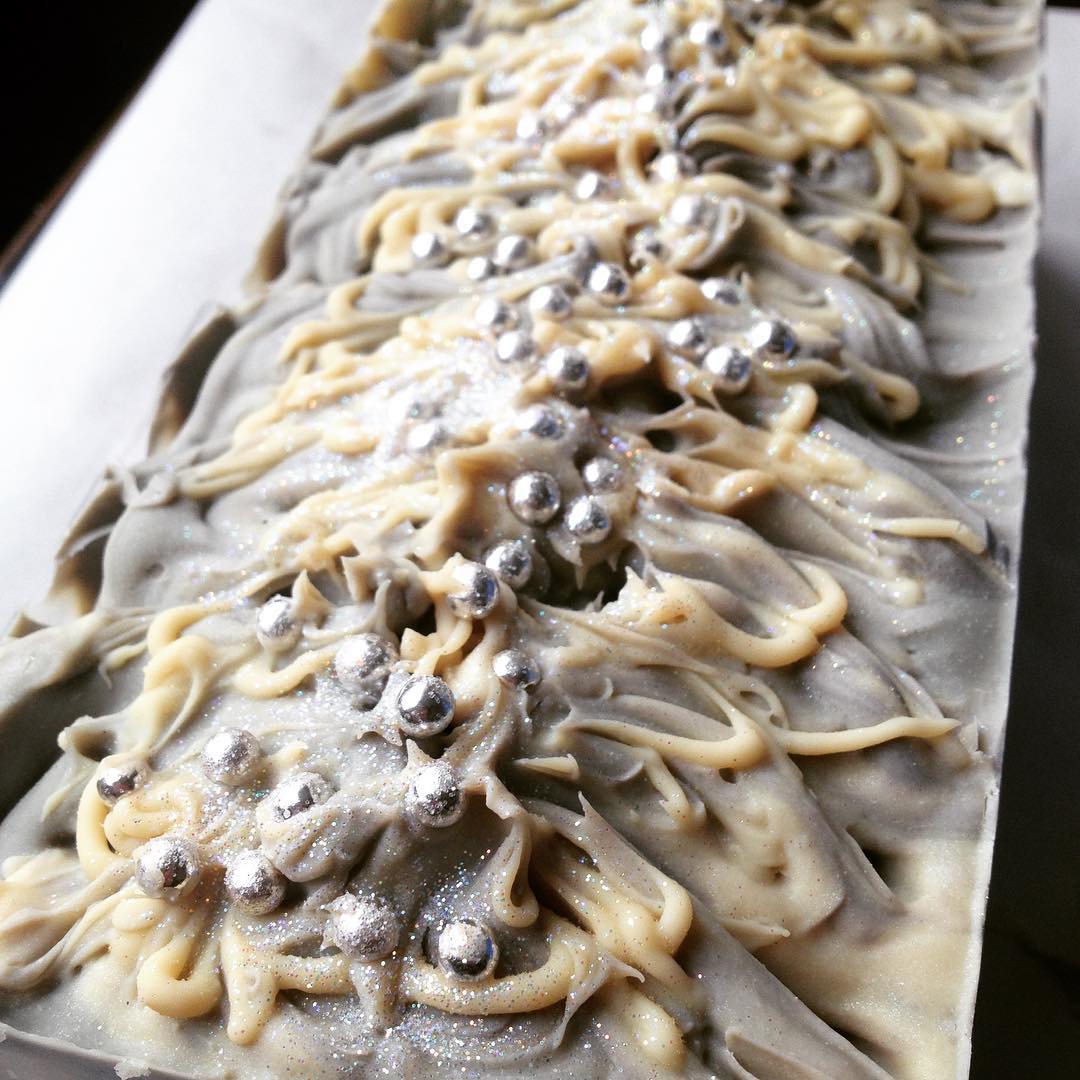 Post pictures of your crafty creations on the Facebook page each week for a chance to be featured on the Soap Queen blog and receive a sweet soapy package from Bramble Berry. Photos are chosen based on consensus from the Bramble Berry staff, so the best way to increase your chances of winning is to show us lots of photos!
To participate in the Instagram contest, hashtag your pictures with #soapshare. Each Friday, I will pick a photo on Instagram to be featured on the Bramble Berry Instagram account.
For those of you who have been featured on the blog, we now have an official "Featured on the Soap Queen" badge! You can include that badge on your website, blog, pictures, etc. To save the badge, click here. =)