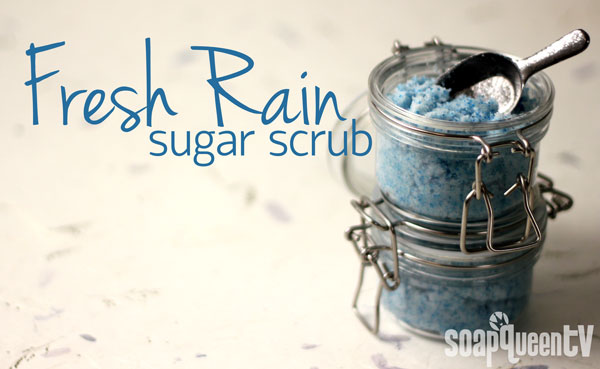 This Fresh Rain Sugar Scrub is so easy to make and a really nice alternative to traditional oil & sugar scrubs that can be greasy and slippery in the shower. Potassium Cocoate is one of the key ingredients in this scrub. It's a soap concentrate made from coconut oil that contains glycerin resulting in a lovely, moisture-rich scrub. Plus, jojoba beads add a pretty sprinkle of color, and, as highlighted in this Sunday Night Spotlight, they are an ideal alternative to plastic micro-beads.
What You'll Need:
10.5 oz Sugar
1.5 oz Shea Butter
1 oz Potassium Cocoate
0.6 oz Ocean Blue Jojoba Beads
6 mL Optiphen
6 mL Mallow Extract
6 mL Rain fragrance oil
Three 4 oz. Plastic Bail Jars
 Click here to get everything you need to make this scrub!