Today, Holly Port from the Lotion Bar Café is sharing a fun and colorful bath fizzy recipe. Holly is a bath bomb expert and other of the book, Make it Fizz: A Guide to Making Bathtub Treats. This bath bomb tutorial involves making a mini bath bomb, and embedding it into a larger bath bomb mold. When placed in the tub, the fizzy has two layers of color. Holly also shares her story on how she got started making bath fizzies, and the tips and tricks she has learned after hundreds of batches. -A.M.
Hi Soap Queen readers! I'm Holly Port, author of Make it Fizz: A Guide to Making Bathtub Treats and owner of Lotion Bar Café in Colorado Springs, Colorado. Mother of two teenage boys and married for 21 years to my f-bombing assistant (aka) fizzy bomber. I am a bath lover by heart and take one every night for as long as I can remember. For those that have boys can relate, there is not much girlie time left in the day. Bath time was and is my oasis. After being fed up with breaking out with store bought bath products, I looked into making products for myself and also for Christmas presents. Over 8 years ago I made lotion bars and people loved them. I was inspired to make more things. I learned how to make bath bombs and never bought store bought stuff again. My skin felt amazing, no more itchy dry skin or irritations!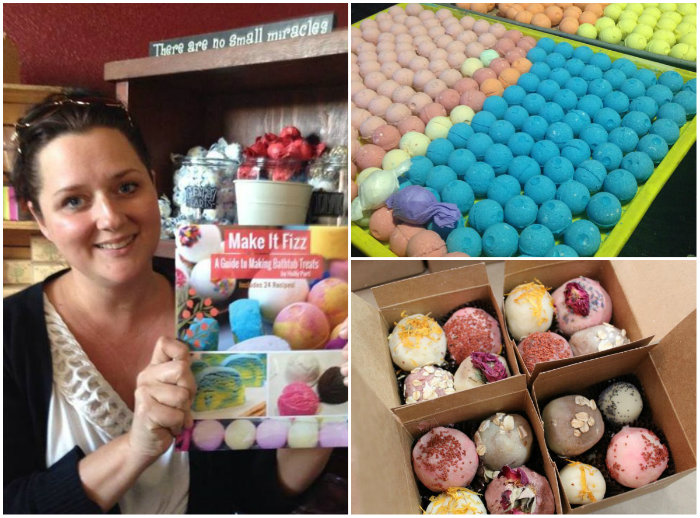 I started making 3 to 4 batches a week and would get half to come out and the others went into a big bucket of failure. Either too dry, too wet, pockets full of unmixed dry ingredients. Ugg, the frustration was real! I learn to spritz, spritz, spritz and mix, mix, mix. I took notes over the years including information on the temperature and how much moisture was in the air. Was it raining or did I have a gremlin lurking in my soap dungeon playing tricks on me?