We're heading into fall with plenty of projects and posts to keep you busy. Earlier this week, we featured a French Macaron-inspired bath fizzy recipe as well as continued our Bramble Business Series with a primer on Twitter (we've also covered how to set up a Facebook page and an Etsy shop). We've introduced a few new products to the Bramble Berry line too, so be sure to take a look at the What's New Blog.
In non-soapy news, we've been reaping the benefits of our garden lately. I couldn't believe it when I dug up this potato that was bigger than Lily's head! We harvested a few watermelons too, and so of course we had a little photo shoot à la Anne Geddes.
We're continuing the fruit and vegetable trend with the Facebook Photo of the Week. It also happens to be related to the Soap Crafting book, so see if you can name the recipe (speaking of Soap Crafting, you can still register for a spot in our Soap Crafting Club)!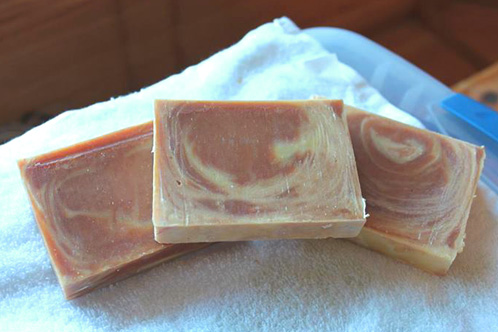 This week's photo comes to us from Heather at Heather's Handmade Soap. It is her version of the Pumpkin In-the-Pot Swirl from the new Soap Crafting book using the fall-inspired Pumpkin Spice Fragrance Oil. It stood out because the ITPS (In-The-Pot Swirl) is relatively easy to achieve and always turns out stunningly, and Heather's swirls and warm color combination totally got me excited for fall. If you haven't had a chance to try out an in-the-pot-swirl, check out this palm-free recipe. Thanks to Heather for being part of our soapmaking community, and we can't wait to see what you will make next. It's fantastic to see such a vibrant community come alive each week on our Facebook page, so keep the photos, questions and tips coming!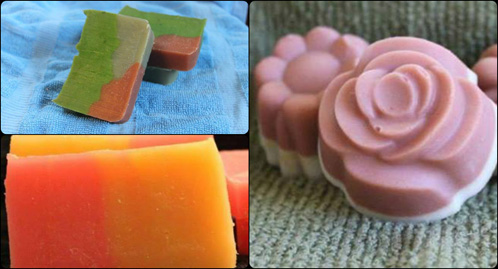 Heather's Facebook Page: Heather's Handmade Soap
Post pictures of your soap creations on the Facebook page each week for a chance to be featured on the Soap Queen blog and receive a sweet soapy package from Bramble Berry.