Whether you're taking an exotic trip this summer or tanning in your backyard, you're covered with this series of Bronze tutorials. First up, give your lips some moisturizing shine with the Beautiful Bronze Lip Tint tutorial. Featuring a special blend of Merlot Mica, Copper Mica and Gold Sparkle Mica (which is 20% off this month!), it's perfect for subtle color. Then, visit Soap Queen on Tumblr for the complimenting Bronze Goddess Nail Polish. This recipe makes 3 bottles of polish, so keep one for yourself and give the rest to friends!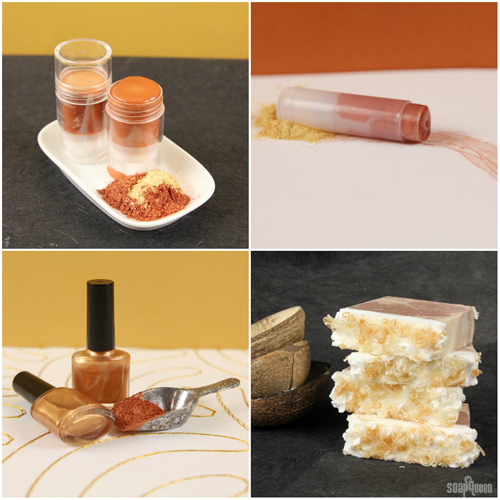 From top left clockwise: Shimmer Stick, Bronze Lip Tint, Bronze Goddess Nail Polish, Coconut Cream Cold Process
For bronze-y skin care, take a look at the Shimmer Stick that came out in this week's newsletter (didn't get it? sign-up here!) It's a super-pigmented solid bar that also imparts plenty of skin-loving moisture. It's fragranced with Burnt Sugar Fragrance Oil, which features delicious notes of amber and vanilla. For more skin-loving goodness, take a look at the Coconut Cream Pie Cold Process tutorial. Made with 100% coconut water instead of distilled water, it's a tropical soapy treat!
Sometimes all that glitters really is gold!
The final tutorial in our Bronze Series is the Beautiful Bronzing Lotion. Made with the Aloe Lotion Base, this is a beginner recipe that can be made in a matter of minutes.