Newsletters aren't new. They've been around ever since the postal service was first created. Donna Maria from Indie Business Network (a trade organization for the handcrafted soap and cosmetic industry) has blogged about the importance of having a newsletter (as have many smarter business people than I). But, this subject just came up in a phone call I was having with a customer who was trying to determine what to best spend her limited marketing time on. After all, there are SO many social media outlets. This is what I suggested for her limited time allocation – by priority. And, if she can only get to 1 or 2 … just do the two most important:
(1) Blog
(2) Newsletter
(3) Facebook
(4) Pinterest
(5) Tumblr
(6) Twitter
There's a method to my madness putting an old school, boring newsletter in my top two content marketing (aka: communication) strategy and this post will cover newsletters – why they are important, some best practices and how a newsletter is your strong foundation for a good content marketing strategy.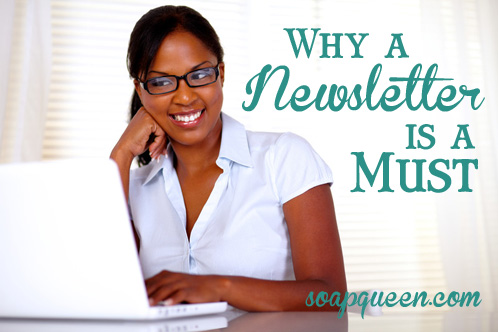 Newsletters (and to a lesser extent, blogs) are one of the only bodies of work that you actually own in your marketing. Think about it; Facebook can change their Terms of Service in the blink of an eye and poof, all your content could be behind a pay wall. Or, Pinterest could get purchased by a huge conglomerate that didn't allow any commercial link posting. There's any number of things that could happen to third party services that could disrupt your ability to use them effectively for your business.
Not so with a newsletter. If the internet was actually shut down, you could physically print and snail mail your newsletters. You own that content. You create it. With the exception of copyrighted and trademarked materials, no one controls it except you.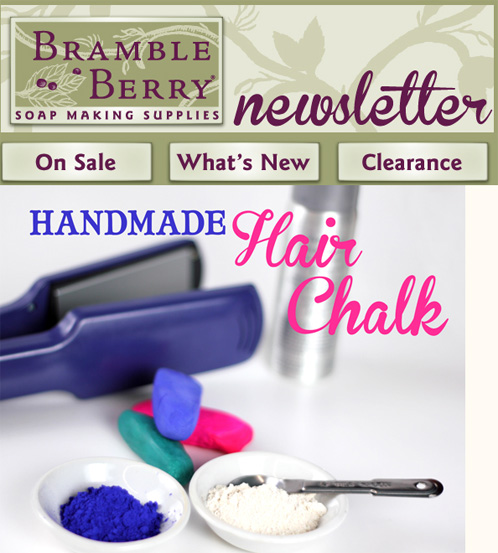 Five Golden Rules of Newsletter Writing
(1) Make it Useful. You do not want people to feel like you are SELLING to them. Rather, you want them to feel like you are being helpful and sharing information with them. This is not about coercing people to buy your products. Rather, this is about telling people what they may have missed during the month, helping them find what they need and letting them know how a product you sell may meet their need. It is not a pushy piece of writing. If it is, people will unsubscribe faster than toddlers running towards the dessert table at a birthday party.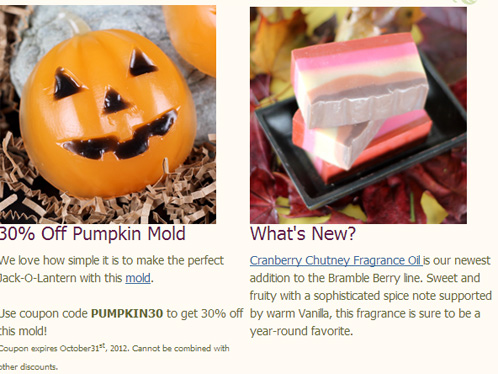 In Bramble Berry's Newsletter, there's always an exclusive subscriber-only discount code, information about a new product we're excited about and an exclusive recipe.

(2) Pictures Make the World Go Round. If they say a 'picture is worth a thousand words', let your photos do the informing and include beautiful, high quality photos to illustrate what you're talking about in your newsletter. Make sure you don't steal photos. Just because it's on the internet does not mean it's free game to take. iStockPhoto is a great place to illustrate your newsletters with if you don't have your own photographs. Bonus points if you can use a program to put words on your photos. Flickr gives you the ability to add text to your photos, Text on Photo (iPhone app) or Pixlr all work to add flair to your photos.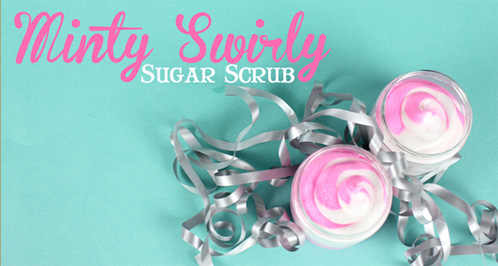 (3) Consistent. It's important that your customers know when to look for your newsletter. You can do weekly or monthly or some variation in between but make sure it's on a schedule people can expect. After all, if you make it useful, people will genuinely want to read it and they'll start looking for it.
(4) Don't Silo. If you are on other social media outlets, connect them up with your newsletter. Include content from your other social media outlets because you do want customers to connect with you in those mediums. Make sure your contact information and the information on where and how to find you on all the other social media outlets is easy to find on your newsletter. This is about a continuing conversation with your customers, not a one time brain dump.
(5) Double Opt-In. This is not considered an industry best practice; industry best practice is to sign everyone up that even looks your way and shows the most remote interest in your product or site. Remember how some people find newsletters to be irritating? Could it be because they didn't sign up for the newsletter to start with? Currently, the law allows you to put anyone that buys from you on your email newsletter. But really, did they ask to be? For this reason, I don't advocate just putting people on your newsletter email list just because they ordered for you one time. Have an opt-in button and then make sure that they confirm their subscription. This is the 'double opt-in' option and it helps to ensure that people that actually want your email get it. Otherwise, they might mark your email as 'spam' and too many of those marks mean that your ISP can be banned or your email service provider could drop you.
There are many mail services out there to use to start your newsletter – and they all cost money after a certain amount of readers. Of course, we hope that at that point, you're generating sales from your newsletter so it's worth it. Some of the ones we have tried and liked are: MailChimp, Constant Contact and Streamsend. No matter who you use though, it's all about the content so figure out what you can do to be useful for your customers base and subscribers and you're 90% of the way there. The rest is just the writing.