I'm excited to have Jen from Something Turquoise on the blog today, sharing her easy and adorable tutorial for Lip Balm Wedding Favors. Something Turquoise is full of creative DIY wedding projects, inspiration and more. In the tutorial below, Jen demonstrates how to make lip balm using the Lip Balm Base. If you're looking to make your lip balm from scratch, visit the full tutorial on Something Turquoise for a fantastic recipe, along with free downloadable labels! Take it away Jen! -A.M. 
I've been experimenting with waxes, butters and bases for about two months now and I've finally found some amazing products that you will love. Not only are these lip balms amazing for your lips and of course darling – but they are super cheap to make! These will be fantastic as wedding or bridal shower favors but they will also make wonderful homemade gifts anytime of the year…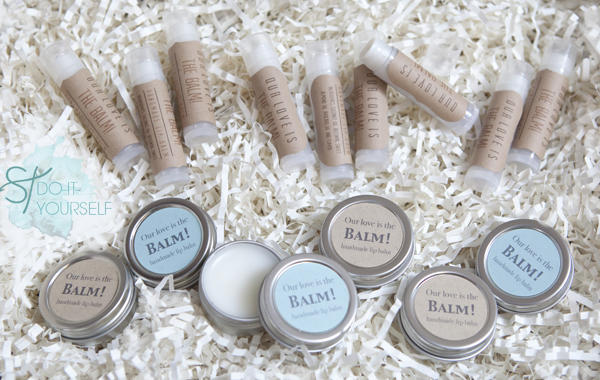 In this tutorial I will be showing you the super easy (like so easy it's ridiculous) way to make your own lip balms and an advanced way of making them from scratch – with a special recipe I created just for you!
SUPPLIES // empty lip balm tubes (these come in many shapes and sizes, available all over the internet!), Brambleberry Lip Balm Base, your choice of flavor oil, a pouring pot, a chopstick, a pipette, and labels to fit your lip balm containers – either from Paper Source or Martha Stewart Home Office. Mica to color your lip balm is optional.
Bramble Berry makes an amazing melt and pour lip balm base – believe me I've tried quite a few and this one is superior! All the best ingredients are already measured and melted down for you so that all you need to do is re-melt this special concoction and add your choice of flavor oil!
On the lowest heat possible, slowly melt the lip balm base. Stirring your base with a chopstick works wonderful – but don't use a wooden one – little splinters will break off in your base – I know, I did it. You will easily be able to make 20 lip balm tubes from one container of 4 oz lip balm base – but you will only be able to get 8 of the screw top tin containers.
Once your base is completely liquid remove from the heat and add your flavor oil – I chose Vanilla. Technically, the normal ratio for adding flavor oil is 1% – 3% by weight meaning if you're making 10 oz of lip balm you would add 0.25 oz of flavoring oil. So if you are only making this 4 oz batch you would use about 0.10 of an ounce – meaning a little tiny bit. The flavor of your balm is completely up to you, I started by adding just a little bit of oil and then smelled my mixture – if I couldn't smell the scent enough I added a few more drops. Simple. Also, women might enjoy a heavier scented balm – while men might prefer a lighter scent. Ps: the only reason there is turquoise Washi tape on the handle of my pouring pot is so that I know of all my pots – this one is for lip balm 🙂
If you want to color your lip balm – that step is in the advanced part of this tutorial. Now fill your empty lip balm containers with your melted base! For the tin containers, fill to the height that you are happy. For the tubes, if you are OCD like me and don't want a hole in the top of your lip balm – only fill them right past the little twist pin inside the tube and let them cool. Then re-melt your base and re-pour.
After your first pour has cooled you will need to re-melt the rest of your base that has hardened in the pouring pot. Now go back and top off all your tubes. This step is optional – however this makes the tops of your tubes perfect looking. If you over-pour don't worry – just wipe the excess base off the sides of your tube, no one will know.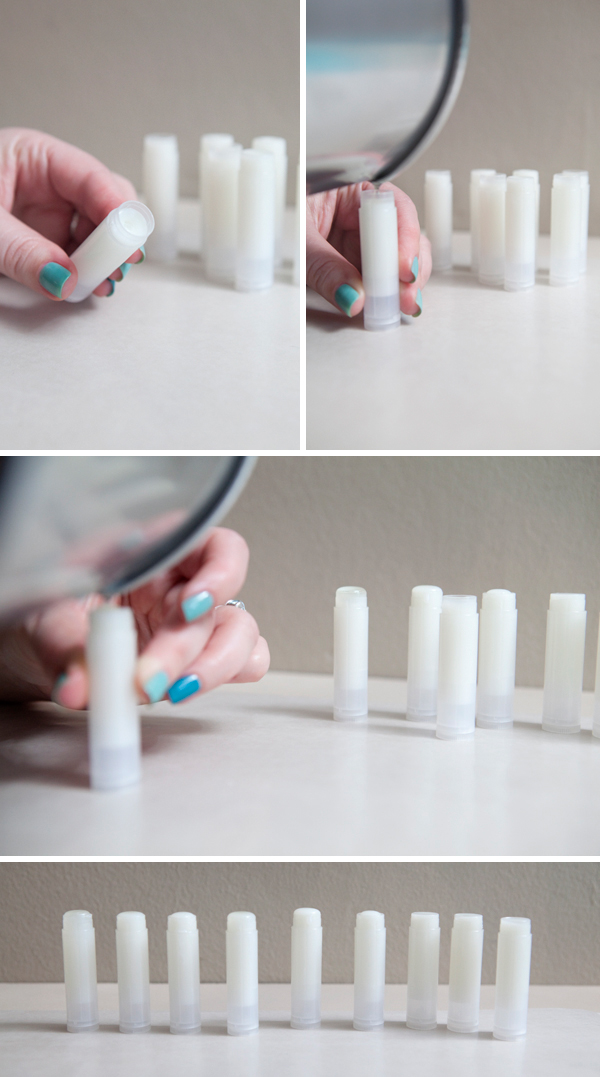 So fun, so easy and so cute! I'm now completely obsessed with making these
Now for the label. Clean the outside of your tube/container with rubbing alcohol – if there is any 'oily' residue on the outside from the pouring of your base or working with the waxes, the label won't stick.
You can find these darling free downloadable lables via Jen's site, be sure to check them out!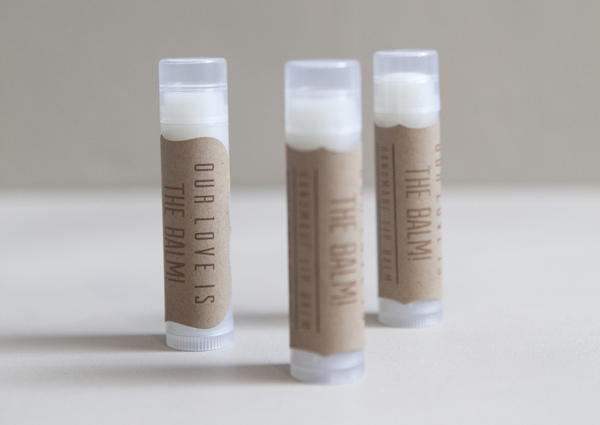 If you're looking for a more advanced tutorial, check out Jen's awesome recipe for making lip balm from scratch! You can find the full recipe and tutorial here.