If you have a fake tree this holiday season, then you're probably missing out on the fabulous Christmasy scent of pine tree; it just goes with Christmas. I've figured out a way to have your cake and eat it too. Or should I say have your fake tree and smell it too? However you want to phrase it, these wax ornaments are all natural, easy to make, and will definitely bring your some Christmas olfactory cheer. Check out this tutorial for another beeswax ornament idea!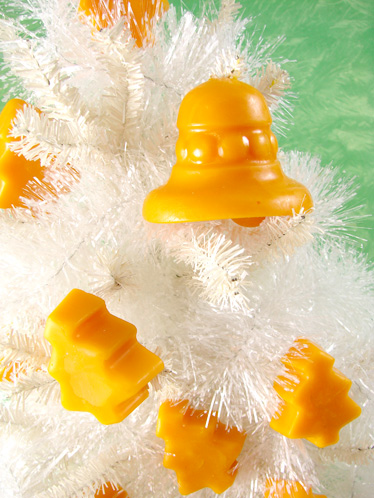 Ingredients
Christmas Tree Flexible Mold
Twisty Ties (new or used)

Get everything you need in the click of a button!
Infused Annatto Seeds? Check out this episode of Soap Queen TV to learn how to infuse Annatto Seeds in oil for an all natural colorant.
NOTE: If you have a big tree you're going to want to make a bigger batch. And if you dare, you can even add more essential oil so it's extra piney! This recipe makes 8 ounces total (two bells and eight trees).

ONE: In the microwave (and in a microwave safe container) melt 8 ounces of Yellow Beeswax. Be very careful when melting beeswax in the microwave, it has a pretty high melting point. Just make sure that you melt the wax in short bursts stirring between sessions.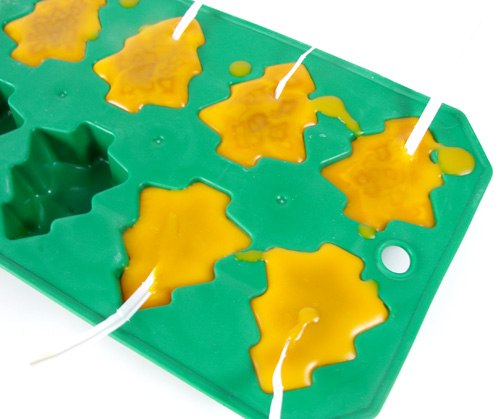 TWO: Once the wax is melted, add 1/2 ounce of Fir Needle Essential Oil and 1/2 ounce of Cedarwood Essential Oil. Mix well and pour into the mold. Then add the twisty ties making sure half of the tie is sticking out.
(NOTE: The Christmas Tree Flexible Mold and Flexible Bell Mold have been discontinued. They have been substituted with the 6 Cavity Christmas Assortment Silicone Mold.)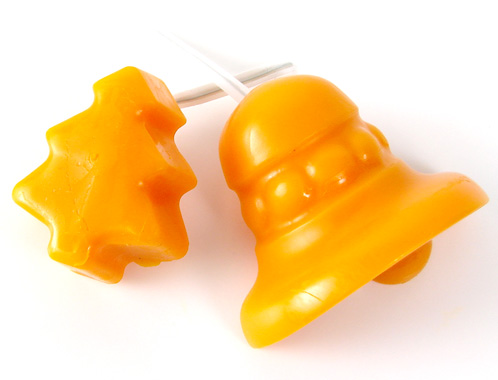 THREE: Once the wax has cooled, unmold the ornaments and use the twisty ties to attach to your Christmas Tree! Have fun and get creative. You can mix it up with different scents, molds and colors.