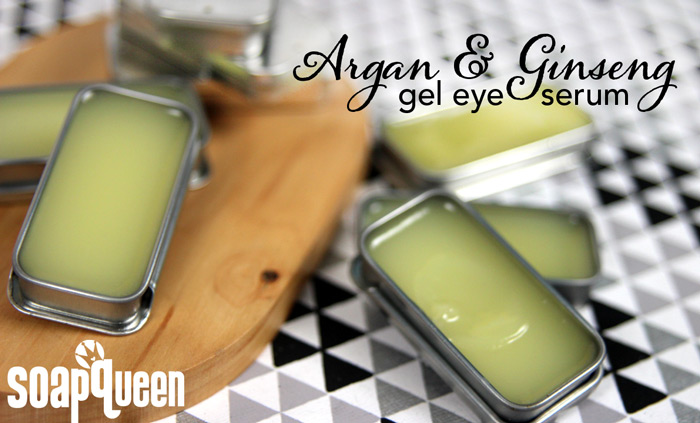 I'm so excited about this Soap Queen TV because it's a little out of the normal soap project. Surprise! It's an eye serum that also doubles as a great eye make-up remover. Argan & Ginseng Gel Eye Serum is gentle and skin-loving with ingredients like argan oil, jojoba oil and ginseng extract. Argan oil is known for its high content of antioxidants, and is popular for a wide variety of cosmetic applications. To learn more about argan oil, click here. Ginseng extract comes from the ginseng root, which is commonly used for homeopathic treatments. The addition of cera bellina wax gives this serum a soft and easily-spreadable gel texture. To apply, use your finger to gently pat the serum around the eye area…a little goes a long way! I recommend applying this serum at night before bed.
What You'll Need:
1.2 oz. Argan Oil
.7 oz. Jojoba Oil
.2 oz (10 mL) Ginseng Extract
.2 oz. Cera Bellina Wax
.2 Vitamin E Oil
10 Slidey Lip Tins


Click here to add everything you need for this project to your Bramble Berry shopping cart!