These super yummy treats were adapted from the adorable book, The Cookie Dough Lover's Cookbook. If you're ever in need of a legit squeal fest, check out this book. The recipes are delicious (of course) and the pictures are to-die-for. I tried my hand at these amazing-looking truffles and they were a total hit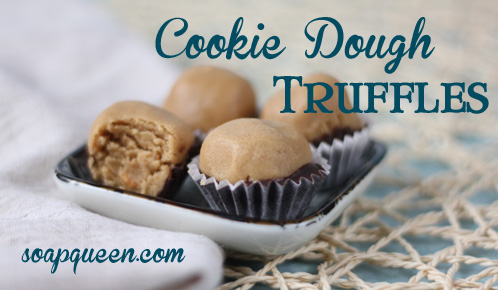 For Cookie Dough:
1/2 cup unsalted butter, room temperature
1/4 cup granulated sugar
1/2 cup light brown sugar, packed
2 tablespoons milk or cream
1/2 teaspoon vanilla extract
1 1/4 cups all-purpose flour
1/2 teaspoon salt
For Chocolate "Crust":
6 ounces dark chocolate
Directions:
1. Beat together the butter, granulated and brown sugar until light and fluffy.
2. Add the milk and vanilla extract to the bowl and mix well. Add the flour and salt, little by little, with the mixer on low until fully incorporated. Cover and chill the dough for about 30 minutes or until it's firm enough to handle.
3. Form the dough into 1-inch balls. Place on a baking sheet lined with parchment or freezer paper and freeze for 15-20 minutes.
4. While the truffle balls are freezing, melt the dark chocolate in a double boiler until melted.
5. Remove the truffles from the freezer. Dip just the base of each truffle ball into the melted chocolate, and place into a mini cupcake liner. Repeat until all of the truffles are coated.
6. Keep refrigerated in an airtight container if you don't plan on enjoying them right away, which I guarantee will be tough!
Yields: 30-40 truffles