Norm's Bramble'versary has come and gone and I forgot to show you the ah-maz-ing treats that I made. I brought them to work and they lasted 2.2 seconds in the warehouse before they were devoured! Funny how a morning sugar rush correlated with a productive order day and crew. How curious. Anyway, I found this recipe from Love and Olive Oil, a super creative and yummy blog. If you get a chance to make these you'll be a local hero in your kitchen, I promise.

from Love and Olive Oil
Yield: 3-4 dozen
Prep Time: 1 hour
Total Time: 2 1/2 hours
INGREDIENTS:
2 1/2 cups all purpose flour
1 teaspoon salt
1/4 teaspoon baking soda
1 cup (2 sticks) butter or margarine, room temperature
3/4 cup granulated sugar
3/4 cup packed brown sugar
1 teaspoon vanilla
1/3 cup milk or soy milk
1 cup mini semi-sweet chocolate chips
14 oz dark chocolate candy coating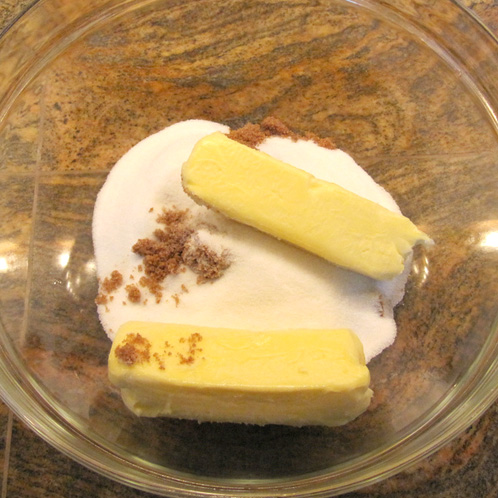 Beat butter and sugars and in large bowl with electric mixer on medium speed until light and fluffy. Add soymilk and vanilla. Stir in flour, baking soda and salt and mix on low speed (or by hand) until incorporated. Stir in chocolate chips.
Cover and chill dough for 1 hour.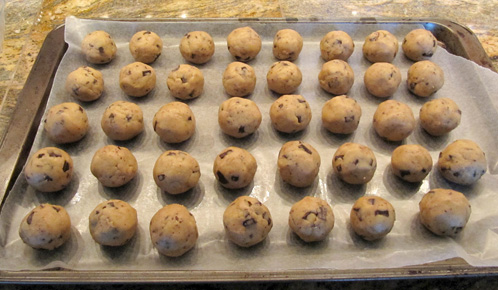 When dough is firm enough to handle (it may help to lightly flour your hands), form dough into 1″ balls and arrange on a baking sheet lined with waxed paper. Place sheets in freezer and let chill for 30 minutes.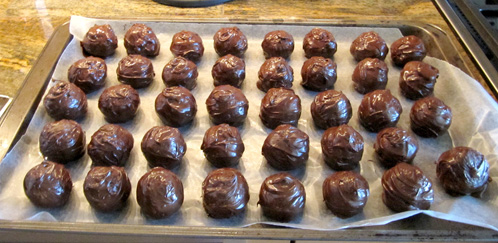 Melt chocolate candy coating in a double boiler or in microwave according to package directions. Using forks or a dipping tool, dip cookie balls into candy coating to cover. Tap fork on side of pan to remove any excess coating, and return to waxed paper-lined baking sheets. Chill until set. Store, chilled, in an airtight container for up to 1 week (though good luck making them last that long).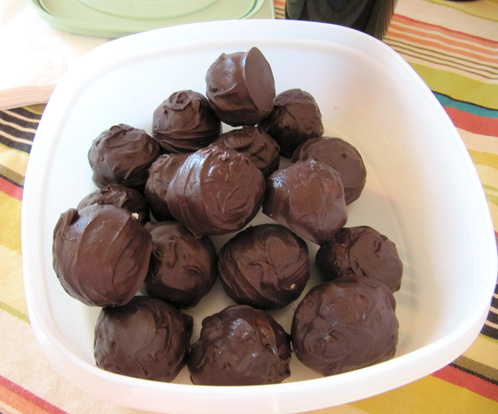 PS – For anyone that's counting, Norman has been with Bramble Berry for a decade now and we are so lucky to have him. He keeps the warehouse running with efficiency and keeps some of my more crazy entrepreneurial ideas in check (some ideas he's shot down in the last decade: a yarn shop, a chocolate manufacturing company, a cheesemaking supply company, a motherboard chip manufacturing operation… the list can go on). Happy Bramble'versary Norm.