Chocolate and Peanut Butter Pillows for Leah's Last Day
If you have called Bramble Berry in the last year and a half, there's a good chance you talked to our wonderful customer service team member, Leah. Recently, Leah spread her wings and flew from the Bramble Nest, and while we were sad to see her go we wanted to send her off right! At Bramble Berry, we have employees with many different dietary needs and in the spirit of Leah and her warm and open attitude, I wanted to be sure that I could include everyone with these treats. Using
this recipe
as a start, I modified it to be able to include those with both diary and gluten allergies.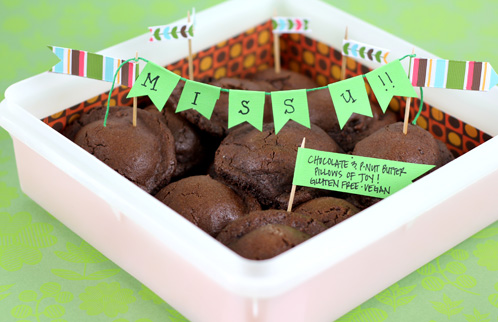 Chocolate dough:
1/2 cup vegetable oil
1 cup sugar
1/4 cup pure maple syrup
3 tablespoons non-dairy milk
1/2 teaspoon vanilla extract
1 3/4 cups gluten-free flour
1/3 cup unsweetened dutch processed cocoa powder
2 tablespoons black unsweetened cocoa or more dutch processed unsweetened cocoa powder
1/2 teaspoon baking soda
1/4 teaspoon salt
Filling:
3/4 cup natural salted peanut butter, crunchy or creamy style
2/3 cup confectioner's sugar
2 to 3 tablespoons soy creamer or non-dairy milk (I used a French Vanilla Non-Dairy Creamer)
1/4 teaspoon vanilla extract
(Because the gluten-free flour is more porous than the regular flour that the recipe calls for, I increased the amount of gluten-free flour originally called for to be able to maintain an appropriate consistency in the chocolate cookie. You might find yourself needing to add more gluten-free flour as you are molding the cookies.)
For the chocolate dough:  mix the wet ingredients in a mixer and sift together the dry ingredients in a separate bowl. With the mixer on low, slowly add the dry ingredients to the wet to create a moist dough. You might want to switch to a spoon after a few turns.
Set the chocolate dough aside. I found that the dough was easier to manage when it was cold, so I kept it in the fridge while I made the filling. For the filling:  using your mixer, combine the peanut butter (I used creamy style) and confectioner's sugar until well incorporated. Add the non-dairy milk or creamer one tablespoon at a time until the dough reaches the consistency of Play-Dough.
Construct the cookies: Preheat the oven to 350 degrees F and line a baking sheet with parchment paper. Roll your filling into balls about an inch in diameter or less. Taking a bit of chocolate dough, form it into a patty. The size will depend on how big your made you filling balls, but I found that the diameter of the mouth of a pint glass was a good size for mine.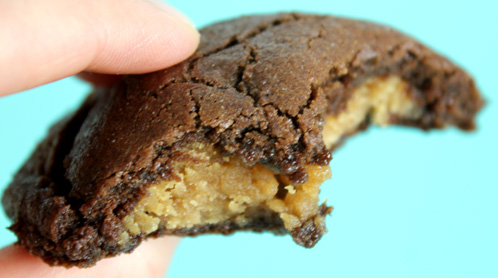 Wrap your chocolate dough patty around your peanut butter filling, covering the filling completely. Set the cookie on the baking sheet with the seam down, and repeat until all of the filling balls and cookie outsides have been joined to create the super cookie.
Bake the cookies for about 12 minutes or so. Keep an eye on them after 10 minutes; I found that the use of the different kind of flour required a couple extra minutes in the oven than the original recipe called for. Your cookies are done when the chocolate color has lightened up from the dark (wet) brown to a medium (dry) brown.
These cookies were such a hit! On their own I felt like they looked less special that I wanted so I begged Kristen (our very creative and super amazingly talented Customer Service rep) to help. She added a cute pennant with some paper, embroidery floss and toothpicks, and then made some flags with ribbon attached to toothpicks with double sided tape. Score! Bramble Berry has some fun free downloads for adding a little bit of flair to your treats that you can find
here
and
here
.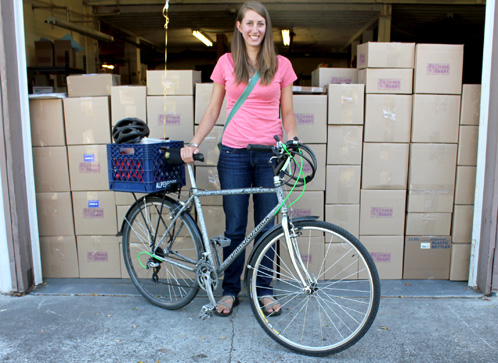 We miss you, Leah!