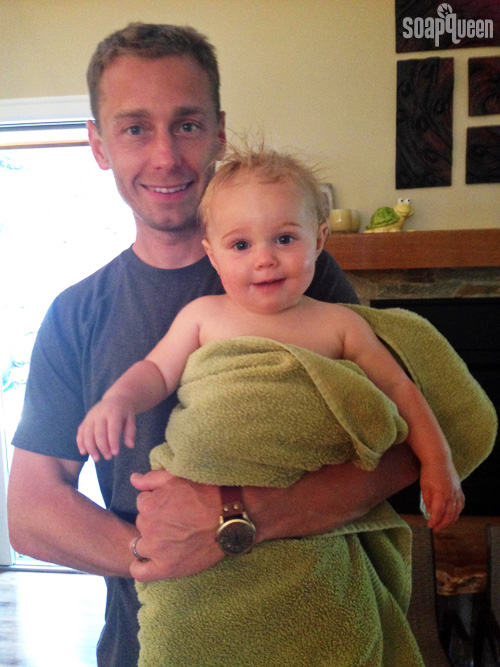 "My father gave me the greatest gift anyone could give another person, he believed in me." – Jim Valvano
Family life has been fun as of late – and busy! We have a new family addition to integrate into our chaotic, busy, funny, and laughter-filled life. My brother's baby, Alise, has us all smitten. The entire family (that's Grandma Kelly and Grandma Wenche below) has such fun just staring at at her, holding her and cuddling her. She is almost three weeks old now.
As is clear in the above photo, Baby Lily weighs about twice what baby Alise weighs. Soon, cousin Alise will be able to handily win wrestling matches just by growing a tinch more. And no, that's not a joke. Lily is 20.2 pounds and Baby Alise just hit 11 pounds.  Chris and I apparently produce petite little shrimps and should not be planning on any football scholarships to help with college.
Jamisen loves, loves, loves baby Alise. It is rather endearing how loving he is since he knows she's going home and not staying at his home, fighting for precious resources.
Alise may not quite be as enamored with cousin Jamisen as he is with her. Thankfully, she has enough strength and heft to make her dismay clear.
Lily is contemplative about this new addition that is taking attention from her but she seems to feel that her piercing blue-grey eyes and perfect heart bow lips will win the day.
Or perhaps, the long lashes may win it for her but either way, Lily's place in our hearts is firmly in place, guarded by her big brother, who continues to love her 20% of the time and rue the day she arrived 80% of the time – but this percentage improves weekly. We trust they will be best of friends by 2045.
Jamisen and friends were so happy to be helpful models for the inaugural photo shoot for
Handmade Beauty Box
. They all loved soaping but the big hit was bath fizzies. Crafting with kids is so much fun and crafting with Jamisen is even better. He loves all scents and is constantly asking me, "
Mama, can I smell that?
" Maybe we have a little perfumer in the making? We definitely don't have much of gift-giver yet. We made soap for all of his new teachers this year and he thus far, has refused to give a single bar, wanting to keep them all to himself. I trust he'll grow out of the "Keep All The Soap!" phase.
Happy weekend everyone; hug your family and friends close and tell someone special how much they mean to you.