What are you doing for your Dad this year? You may remember the epic family cooking day from last year? Well, that was a late Father's Day present and that's exactly what we're doing for Dad this year. He loves gourmet food, he loves family time and he loves connecting. Where better to do that than over a gourmet meal cooked by your kids?
We do a little spin on the meal though. It goes like this: 1) We pick out 15 awesome, mouth-watering recipes. 2) We design a trivia game just for Dad. 3) For every answer he gets WRONG, he has to discard one of the recipes. Last year, he ended up with an 8 course meal because my Dad is one smart cookie!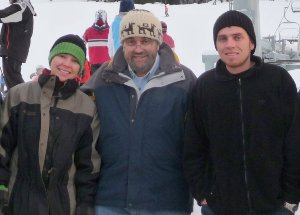 Here are some older blog posts that mention my dear Father … I Love My Dad , Wisdom from my Dad, Butterscotch Butterscotch Cake (Dad's favorite cake), Hiking with the Fam', Happy Father's Day, Dad!, Nutrition Advice from my Dad, Hiking at Mt.Baker. Make sure to read the comments on this post (Mmmm…Caramels) from my Dad (about a Fat Flush diet). He is too funny!