After making my poor family and friends wait for a full extra week so I could tell my folks in person, we're ready to share our little Bramble Bump news with the world. 2800 of you voted in the poll – as of this morning, the votes give a little girl the edge. Were you right?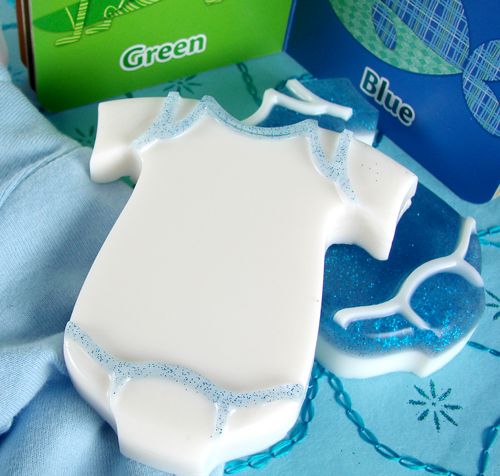 Now can you guess?
Of course, we used cupcakes to tell them about the baby – Vanilla Peppermint Cupcakes filled with a white chocolate ganache. They were INSANE sweet but yes, I will definitely be sharing that recipe (right after I share the Key Lime Cupcakes from last week). The color of the ganache was the sex of the baby. Yes, we are officially having a BOY! The entire family is thrilled, tears were shed (of happiness!) and now the fun begins – decorating the nursery, my new (large) baby office and choosing a name!
Blue Cupcake for BOY!
Erik (my younger brother) made the Onesie mold just for my baby gender announcement but when we saw how cute they turned out, I had him whip up a bunch more just for you. You can buy the soap mold
here
. The technique to make the dual colored Onesies is just like the technique in this
Gingerbread Man tutorial.