Yesterday was a whirlwind afternoon. I tested 8 new fragrances for Spring 2011 and I tested the new
Mint Chocolate Chip Fragrance Oil
in a 5 pound batch of cold process. The results are in and I'm pleased to announce the Mint Chocolate Chip behaved beautifully! The scent holds up nicely and it didn't accelerate trace in the slightest. I used a swirling technique using ketchup and mustard squirt bottles to layer in some thin lines of green (mint) and brown (chocolate). Originally I was going for a chocolatey-minty-icecreamy swirl but ended up with a camouflaged army motif. Since there was such a high percentage of olive oil in my recipe, the base color turned out a little more yellow than I had planned. But the soap still turned out great. I'll be sure to keep you updated after the unmolding ceremony.
Below are the
potential
Spring 2011 fragrances that I'm testing. There are so many promising fragrances but they have a long way to go to get into the
Bramble Berry line of fragrances
. Only one fragrance seemed to separate a little bit but the rest are looking promising (holding  back an exited girly scream). I'm in LOVE with these scents and can't wait to release them!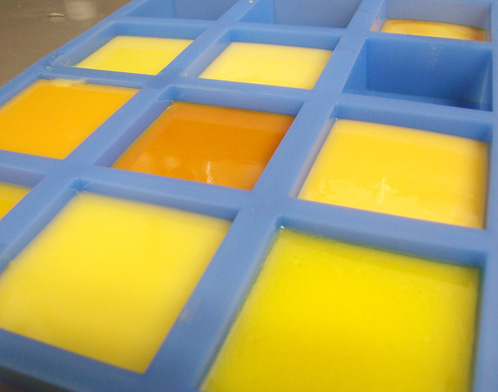 Then some unexpected visitors. My brother, Erik, brought the "kids" over to say '
Hi
' to their favorite auntie. Sammy on the left and Toby on the right…my little angels!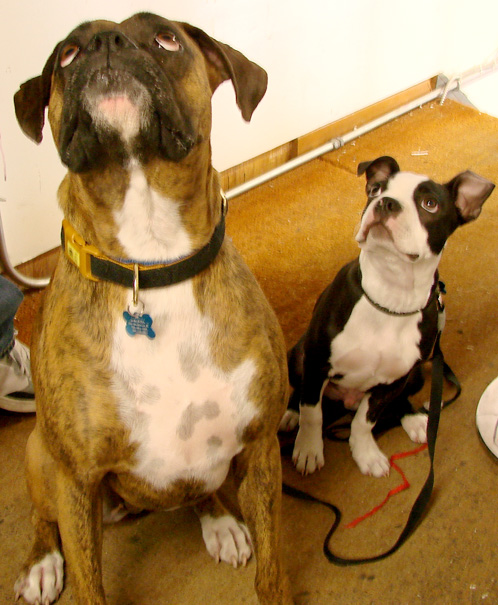 Oh and if you're looking for a super cute 
Mint Chocolate Chip
 melt and pour project and missed my re-post on Friday, learn how to make these sweet soaps (below) on  
The Soap King
 blog.