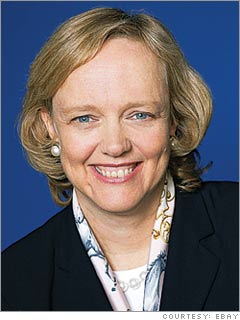 Meg Whitman announced that she will be stepping down as the CEO of E-Bay.
She's the #3 on the Power List that Fortune puts out every year. More importantly, she was one of the small handful of women that run worldwide, huge companies. The glass ceiling still exists at that level.
It's hard to blame Ms. Whitman for wanting a change. She's been with E-Bay for ten years and most people are itching to switch careers after ten years of the same job.
Still, it's disappointing that there will be one less role model for little girls to look up to and say, "I want to be her when I grow up."