It's definitely a change being back home after a jam packed week of soap guild fun.Yesterday was a hectic (but awesome) day at the BB office after being away for practically an entire week. Despite the fact that we're all playing catch up, the trip was totally worth it. Amber, Courtney, Kat and I had the best time together. We bonded and laughed in the van to and from Portland and were super giddy to meet some of our customers at the Bramble Berry booth (thank you to those who stopped by- it was fun to meet you!). The only downfall was being apart from Jamisen and my hubby Chris, luckily Facetime on the iPhone saved the day. There's nothing cuter thank your kid trying to kiss you through the phone. Thank you technology!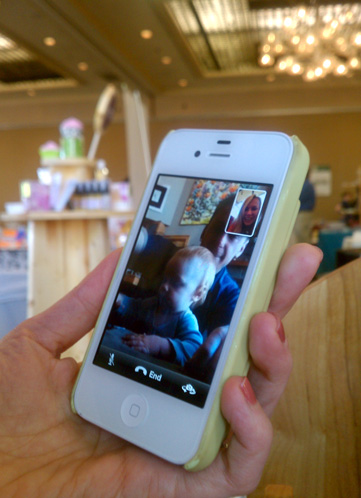 Our 15 passenger van left the Bramble Berry warehouse last Tuesday at 6 am with our beautiful wood display carefully packed in the back (the brainchild of awesome Brambleberrians Amber and Norman). We pulled into the Red Lion Inn in Portland Oregon about 12 noon and we were on the go for the rest of the conference! I blogged on Thursday from the conference so if you  missed it, check out the post here. You don't want to miss some of the beautiful soaps from the Soaper's Showcase or the fun Casino Night that Bramble Berry co-hosted with Debby May from Wholesale Supplies Plus. I lost a lot of fake money that night gambling. Oy!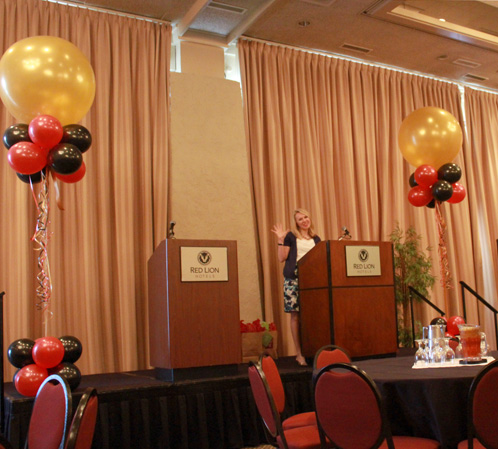 Here I am practicing my welcome talk at Casino night.
We also debuted a new Goat Milk Soap Mold at the BB booth. If haven't had a chance to see them yet take a looksie here. Can you guess what our most popular sample product was? Hint: The blog post currently has 272 comments. It's none other than the Whipped Shea Butter project from the Soap Queen Blog. If you're into whipped butters like we are, you should check out a variation on the classic recipe on Soap Queen TV.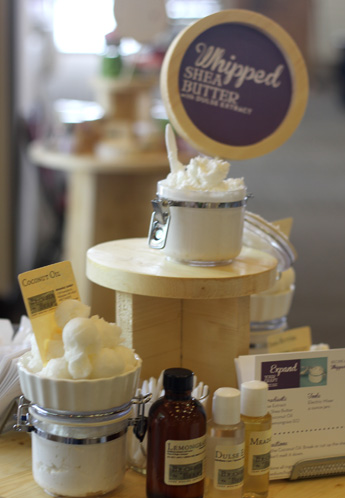 Our popular whipped shea butter display!
Friday I taught two cold process soap making classes (back to back) using goat milk and a crazy fragrance combination of Baby Rose, Vanilla Select and Black Pepper. I know it sounds super weird blend but somehow it works. Don't knock it until you try it =) I also want to say a big thank you to Jill Keck  and Renee Lillie for assisting me during the classes. You were both so helpful!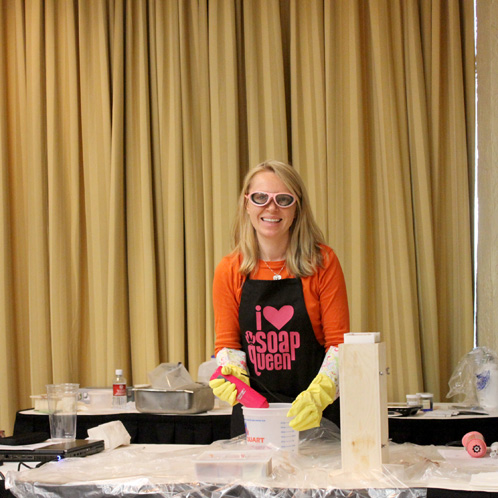 Kat from Otion taught at the same time I did. She taught her amazing swirling class. Her class is a definite crowd-pleaser. With soap like the Katlidescope (below), are you surprised? That is one beautiful soap! Shhhh! I think I convinced her to guest star on SoapQueen.TV to show us the technique this fall.
We were so exhausted after the long week I would have put money on someone falling asleep on the way home but despite our delirium, we talked like hens for the entire five hour drive, making it home safely at 2 a.m. I think it's safe to say that we all had a great trip (and all that chattering has got to be a sign that the BB team rocks, right?).