The newest Soapylove mold instantly put us in a mood for spring colors and sandals despite the still chilly and wet weather here in Washington (in fact, I got so excited I wore sandals and a dress today and now, I'm freezing!)  What's a better way to celebrate the start of spring (even if it's a wet and cold spring) than with fun soapy pops?  You can use any variety of fragrance oils that you can think of (orange sherbert anyone?) but we chose a rich, yummy fudge for its inaugural soaping. Here is a list of the Bramble Berry 'Sweet' fragrances for even more ideas.
We used colorants from the Sweet Treats Colorant set (also designed by Soapylove) to make this delicious fudge soap.  The pink details are done with the Pink Frosting, the popsicle stick with Buttercream Yellow, and the pop itself is done with the Bakery Beige. We used  the injector tool to fill in the dots perfectly.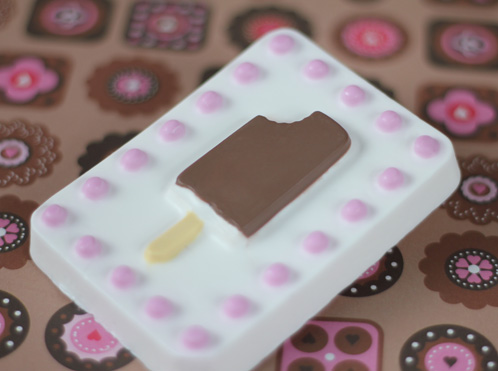 For the  fudge fragrance, we used Dark Rich Chocolate.  The chocolate will does discolor, so you'll want to be sure to use Vanilla Color Stabilizer to keep the rest of your soap bright and white. If you have the SoapyLove Delectable Desserts kit, she designed a lovely fudge fragrance in there as well.
Want to make a matching summer set of soaps? (Say that 5 times fast). Check out the Ice Cream Cone mold to coordinate your line. The entire SoapyLove line can be found here.