Bramble Berry's house soap bases are now available in a new bulk size. It's the same amazing clear and white Bramble Berry base that we've stocked for 14+ years now, only in a bigger size that can go flat rate. The most exciting part is that you can now choose to ship it for only $16.53 ONLINE via flat rate shipping (without calling in to change the shipping option – I can hear your sigh of relief from here)! If you've ever shipped flat rate shipping with us, then you know exactly what I'm talking about. If you haven't, get ready to save some money!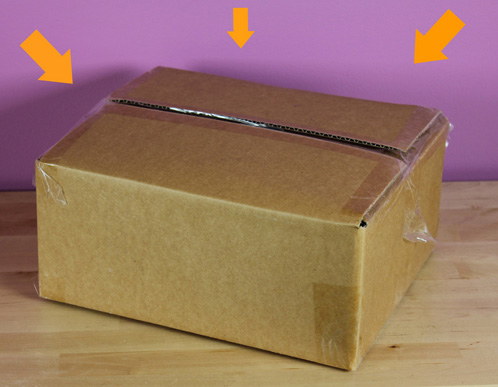 This is what your 25 pound block of soap will look like.
"New" Premium Bases at Bramble Berry: Buy the original, premium Bramble Berry melt and pour recipe in a new format and save BIG! These three bases come in a 25 pound blocks which are encased in a plastic bag inside the boxes. The soap is poured directly into the box by the soap maker so there are usually bubbles or foam at the top of the block. Handling a solid block of Melt & Pour base can be a little tricky – but we make it easy with step-by-step instructions you can find here. In our opinion, it is well worth the savings!Premium Flat Rate: These bases can ship in a USPS large Flat Rate box which costs $16.00 per box to anywhere in the United States. (Sadly, Flat Rate Service is not available for international customers including Canada).
Premium Clear Bulk Base– Flat Rate
Premium Goat Milk Bulk Base– Flat Rate
Premium White Bulk Base– Flat Rate
Premium: And if you don't want to ship USPS Flat Rate, no problem. Buy the same premium bases in the 25 pound size and still save, shipping any method you prefer.
Clear Melt and Pour (you choose shipping)
Goat Milk Melt and Pour (you choose shipping)
White Melt and Pour (you choose shipping)
Bulk Flat Rate: How could we leave out the regular bulk bases that you all know and love? We simply couldn't. We've included them in on the Flat rate shipping action as well. As long as it says "Flat Rate" next to the item you can ship it for only $16 to anywhere in the United States. We've put these items on their own page so be sure to order from that page to get the flat rate shipping option. View the entire Flat Rate shipping page here
Bulk Clear Melt and Pour– Flat Rate
Bulk Goat Milk Melt and Pour– Flat Rate
Bulk White Melt and Pour– Flat Rate
How to order the bulk bases with Flat Rate Shipping!
 ONE: If you choose to with ship Flat Rate Shipping, below is what your order will look like. The shipment will be separated into two shipments. See shipment 1 with the two bulk items (with the red arrow) and shipment 2 with the rest of your items that can't ship in a flat rate box (with the blue arrow).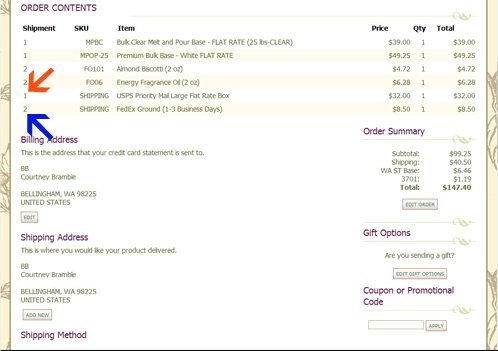 TWO: After you confirm your billing and shipping address, the next page will show you the shipping charges for each separate shipment. See shipment number 1 with the Flat Rate shipping cost (red arrow for $32 for 2 flat rate boxes) and shipment number two with the FedEx shipping cost (blue arrow).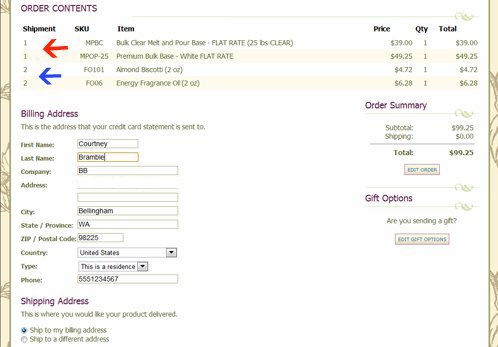 THREE: Once you finalize your order you'll be able to see  shipments 1 of 2 and 2 of 2.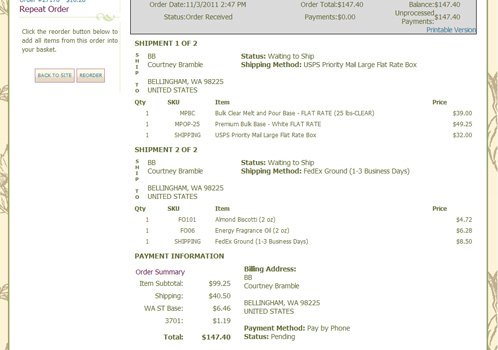 And that's it! Shop the Flat Rate Bases here and save on shipping today.