Yay! I'm on Martha Stewart Living Radio on Sirius Satellite once again. I'll be a guest on the Living Today show with Jamie Gwen (Sirius 112 and XM 157 at 10:30 a.m. PST/1:30 p.m. EST) TODAY (Wednesday). I have so many great projects I want to share. I hope I have time to share them all. See the full list below.
If you have any question you'd like to ask – just give us a call! 1-866-675-6675
Chocolate Lip Balm using real Cocoa powder. I made this lip balm with Shea butter and Vitamin E oil for an extra rich and moisturizing feel.

Get everything you need (except the cocoa powder) to make these delectable lip balms.
Next up is my melt & pour soap project using repositionable rubber stamps. In addition to the step-by-step blog post, I also created a video on how to make these. They are easier than they look!

Get the ingredients you need to make these heart felt soaps.
Here I have my Champagne and clay face mask recipe. What a great way to use up any leftover Champagne and so refreshing for your skin!

Get the ingredients you need to make this from Bramble Berry (excluding the Champagne, of course).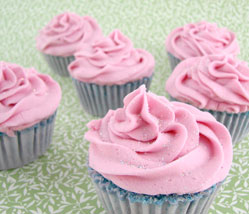 And finally we have my Bath Bomb Cupcakes, the perfect calorie free gift for Valentine's Day! In addition to the video tutorial, I also posted a blog with a price break down to show just how economical these little beauties can be.

Bramble Berry has a complete kit for making these adorable treats.