This is a random newsy housecleaning post:
1. There is one spot left for the Soapmaking Weekend Intensive. If you were waiting for any reason, now is the time for action.
2. Thank you Heather W. in California for alerting us to a batch variation in the Cybilla Dragonsblood. If you've received it in the last month and it didn't smell normal to you, email me.
3. Coming Soon! We have a lovely sweet Blueberry fragrance blend coming late July to replace our discontinued Blueberry fragrance. And, you asked for it and so we jumped! Bath & Body Works has a yummy fragrance called "Hello Sugar!" Our version of this blend, "Hello Sweet Thang'!" will be in stock late next week. Borax is here and will be in stock in 2 & 7 pound sizes later this week.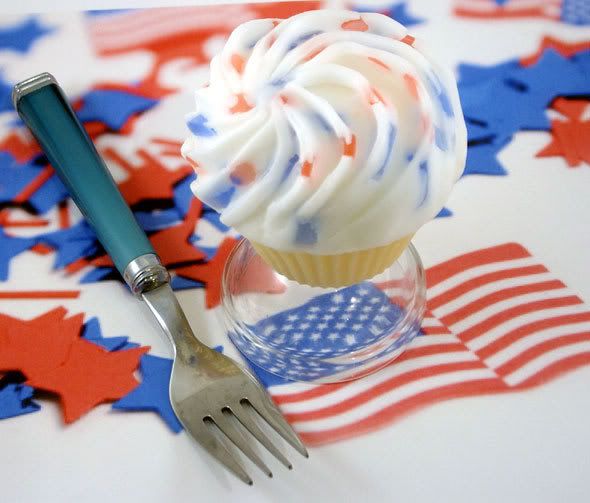 4. The Fourth of July, $5 off your Bramble Berry order, contest is coming to a close in just a few days. If you'd like to enter, head over to the TeachSoap Forum to register. It takes a day or so to get approved by a real person (Hi Courtney!) so register now even if you're not going to post your patriotic entry until the last minute. The entry on the left is made by soap artist Lisa from Serah's. When you check out to her site, be sure to gape in awe at her super creative Bright Balloon's Birthday Soap.
5. Suprise Contest! I really appreciate everyone that comments and adds to the color and content of the Soap Queen blog. I have 1/2 ounce sizes of the following essential oils: Lavender, Lemon, Lemongrass, Orange, Egyptian Geranium and the Stop Pain Synergy Blend headed to Soap Queen Commenter #53 (number picked randomly by Norman) from last week …. Erin from Heavenly Scent. Erin, email me with your address and I'll get these out to you right away.
6. Log Mold Update: The flex plastic log mold that we've been diligently testing for months now is being manufactured. If you missed what it looks like, click here to see it in use. We expect them to arrive mid-July for sale. Pricing will be $24 per mold.
7. Cupcake Molds will be in stock late July.
Happy Soaping!