The holidays are a time for giving. To get into the holiday spirit, Bramble Berry partnered with a local organization, Lydia Place, to help provide toys and items for families in need. With more than 30 children and their parents to shop for, the Bramble Berry team met at Fred Meyer to start the shopping extravaganza. Everyone had so much fun picking out the perfect toys, clothing and other wishes on the wishlists. This year was particularly organized and efficient; we got all our shopping done in two hours! I'm so thankful for Bramble Berry customers for making this year at Bramble Berry successful; we couldn't do this charity shopping trip without you and your orders.
Lydia Place is a local nonprofit, and is a wonderful organization in the Bellingham community. Lydia Place works to provide safe and independent housing for homeless women and children. In particular, it is the goal of Lydia's Place to assist women in becoming self-sufficient. If you'd like to learn more about Lydia's place, click here to read about them.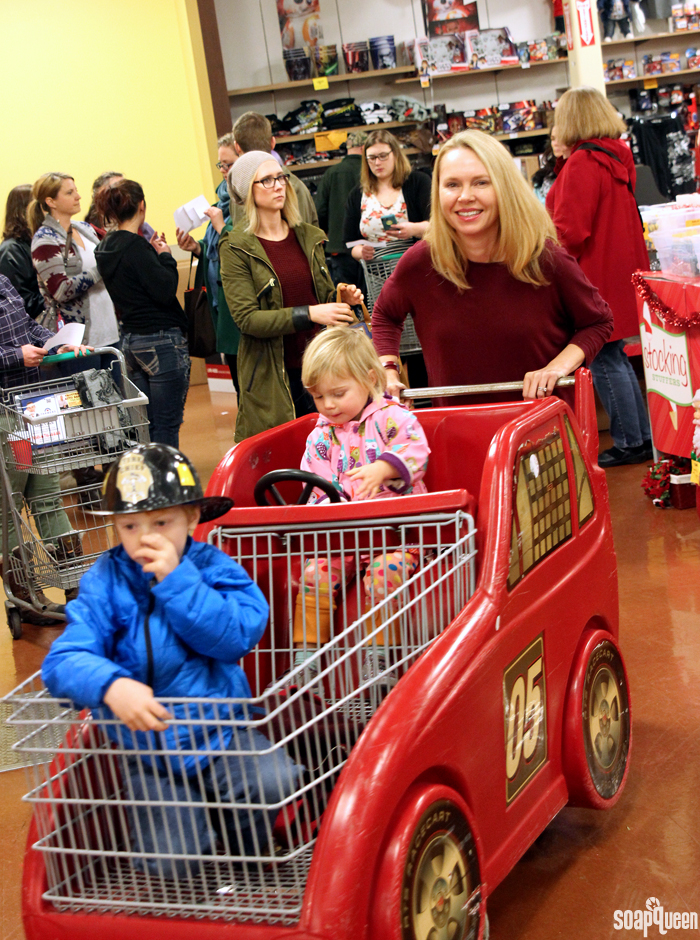 Lily, Jamisen and Chris accompanied me on the shopping trip, and had so much fun riding in the fire engine cart. Jamisen even brought his firefighter hat. =) Jamisen is becoming really good at understanding that we are shopping for other children, and not for himself. I'm proud that he is learning to enjoy giving as much as receiving.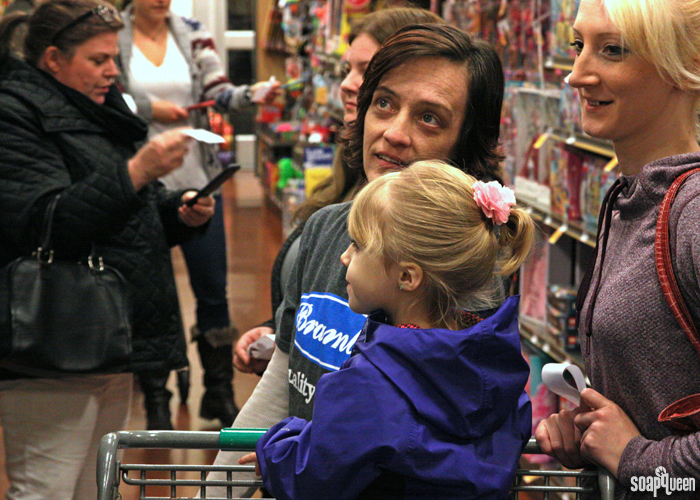 With so much shopping to do, the team brought their families for extra help. Above, Carla asks for input from a toy expert…her granddaughter! Below, Lindsey searches for the perfect LEGO set for the child on her list. Some items on the list were very specific, while others allowed shoppers to pick items they thought would be perfect.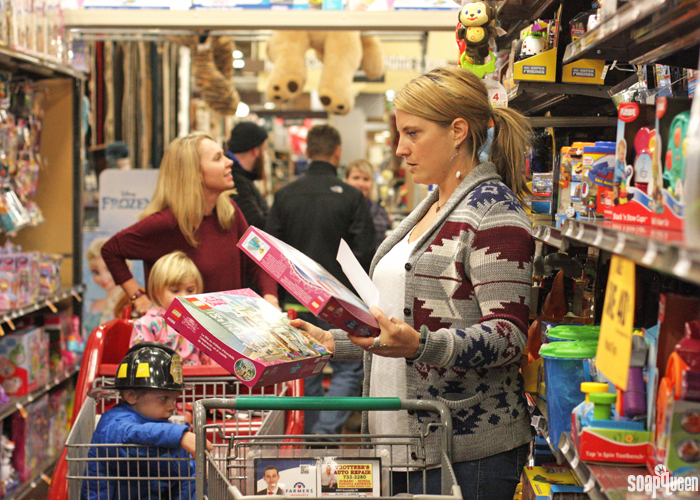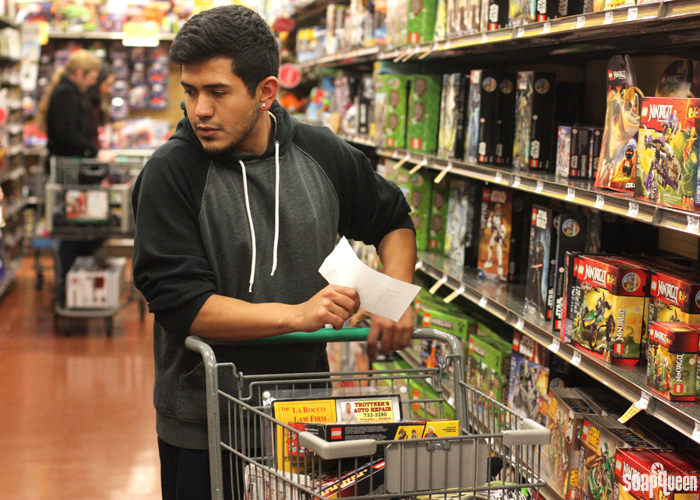 Above, Jorge strolls through the toy aisle to find the perfect gift. Below, Rachel in customer service (meet the customer service team here!) searches for some comfy clothing for the toddler on her list. Most of the items on children's wishlists were toys, with a few requests for clothing as well. Who doesn't love something warm and comfy to wear on Christmas day?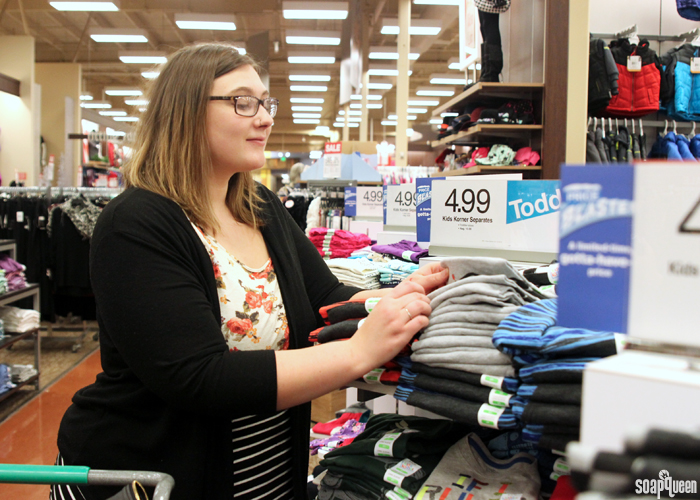 Below on the left is an example of the wishlists each shopper received. This young boy loves Spiderman, The Hulk, Thomas the Tank Engine and Hot Wheels. We were able to find everything and more for this little boy. On the right, you can see one of his Spiderman-themed toys ready to be brought to the register.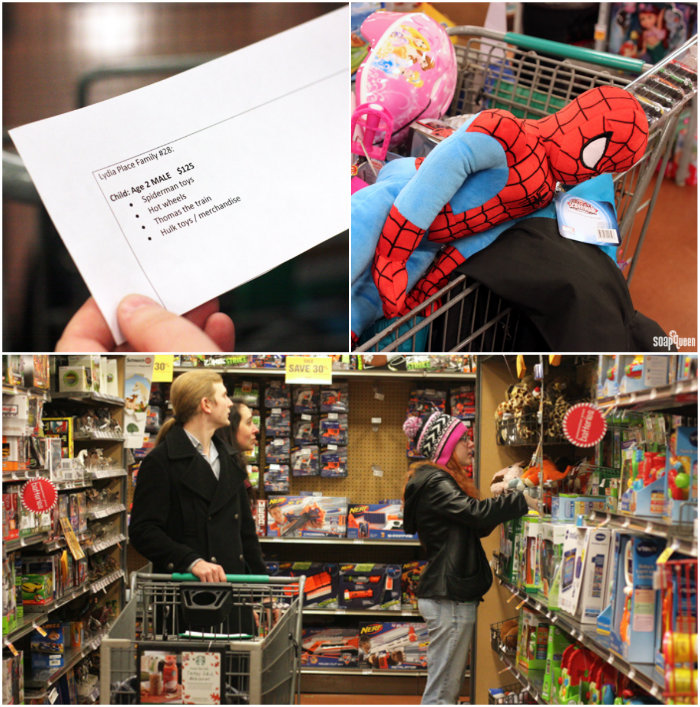 Above, Ryan, Cheyenne and Emily look through small stuffed animals and baby toys. Below, Teal shows off the awesome present for the young girl on her list…a new bike! Teal also picked up a helmet and lots of Hello Kitty clothing and accessories.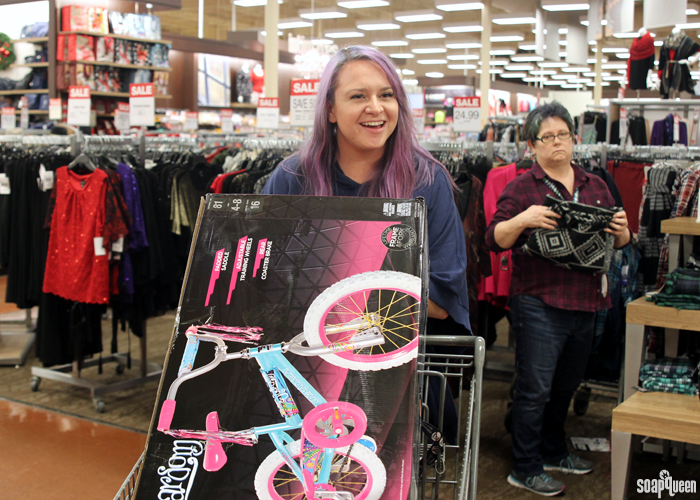 Below, Bentli and her mom picked out fun art supplies. Permanent markers can be used for so many different projects, so I think they were a great choice!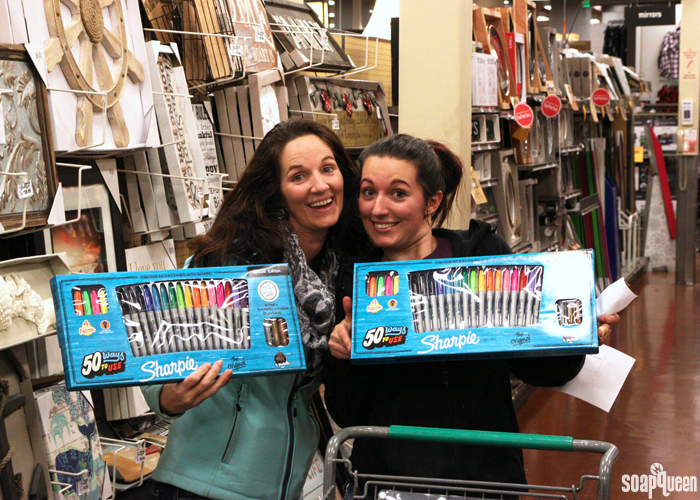 Once we were done with shopping, it was time to get everything rung up. While all the toys were being rung up, Jason and Joe (below) entertained the line with tricks! Jason (left) is part of the Bellingham Circus Guild and performs a wide array of shows at events around town. While Joe (right) is not a professional, he clearly has some great balancing skills!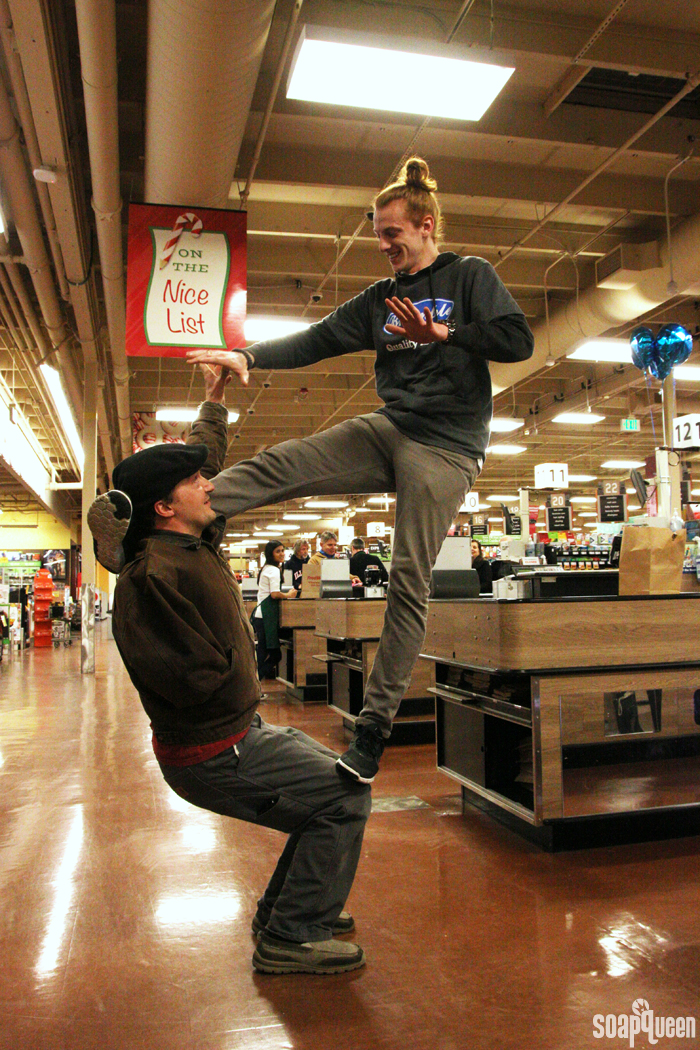 Jamisen and Lily did an awesome job of staying happy and patient throughout the entire shopping process. If you have young children, you know what a relief that is. Toward the end, Chris took Jamisen and Lily home to get ready for bed. Below, Lily waved goodbye to the group.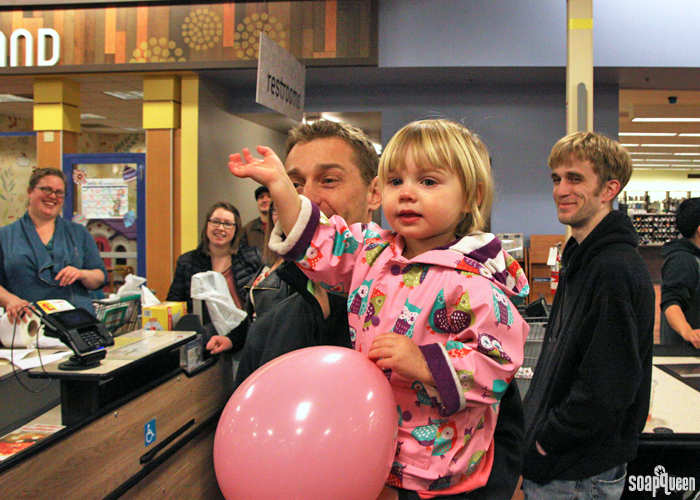 In addition to toys, the team shopped for wrapping paper, tape and supplies. Part of the fun of receiving gifts is opening them, don't you think? =) In addition to the items on wishlists and wrapping supplies, each family received a gift card to Fred Meyer to buy food or other necessary items.


All the gifts were bagged per family to help keep things organized. Below are just a few of our carts. Luckily, we had a big van that was able to fit all the bags of toys! Santa and his sleigh would have been jealous. =)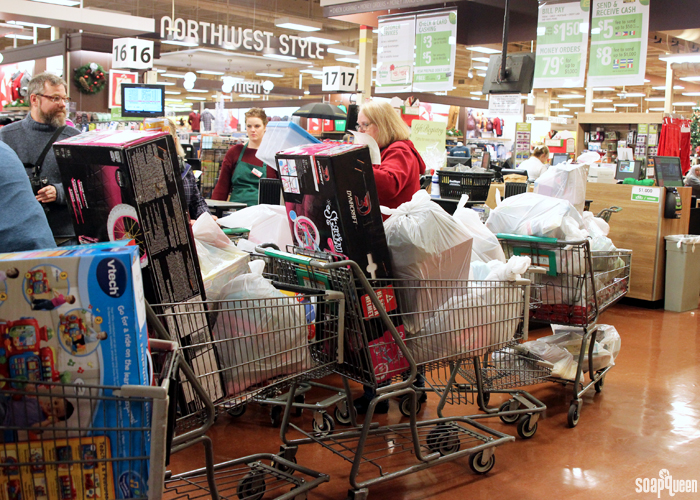 Once all the gifts were rung up and bagged, it was time to pay! This is always the most fun and (slightly nerve-wracking) part of the trip. This year, our presents were rung up on two separate registers to help the line move along.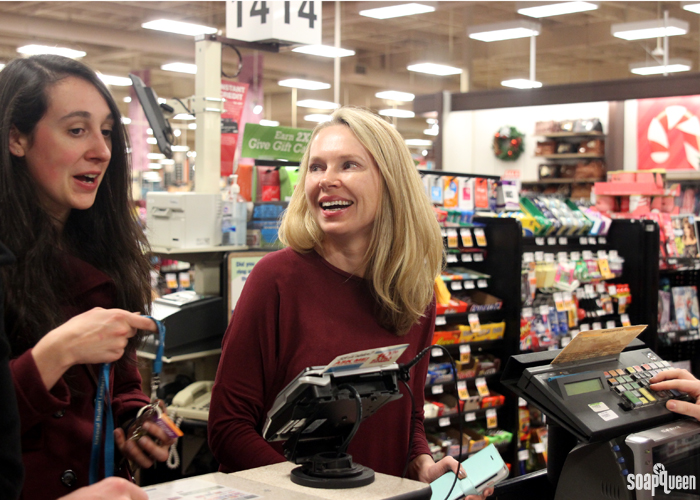 The final receipt (or in this case, "receipts") was almost 5 feet long! As you can see below, it was just about as tall as Caitlin (she has a super fun job at Bramble Berry – research and testing for new products). Below, Amber holds up the receipts while the team waits to finish loading up the van with the final items.
This part of the holidays is one of the most meaningful times for me. Being able to give back to the community through my business is a big deal – and I wouldn't be able to do it without your business and loyalty. Thank you for supporting Bramble Berry this year.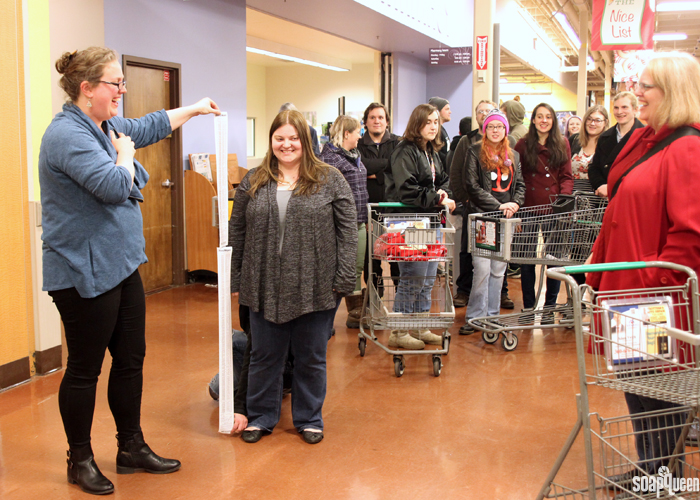 Out of all the Bramble Berry events, the annual charity shopping trip is my favorite. I'm so thankful for my awesome team who help organize the event and take the time to help others. I also want to give a big thank you to our customers for their business this year. It's with your support that we are able to give back to our community!