EEEP! Valentines day is next week. I have a good excuse for forgetting and that reason just learned to crawl like a big boy – no more army crawling for him. But I digress … If you're still wondering how to wrap up your valentine soaps, I've got an easy (and free) last minute idea for you. This sweet packaging involves printing, folding, whole punching and ribbon tying – easy peasy lemon squeezy! We've designed a FREE Valentine Wrap to fit our cube molds perfectly whether you're making melt and pour or cold process soap. I've been having a little too much fun with the cube mold  that's developed into a full-blown obsession (I'm sure you daily readers have noticed- sorry 'bout that. I'll try to branch out. I swear!).  If you make melt and pour soap, try the Faux Swirl melt and pour recipe we posted last week! If cold process is more your style, try our Valentine themed soap with embedded hearts. Also check out Holiday Cube Soaps and Crazy for Cubes posts.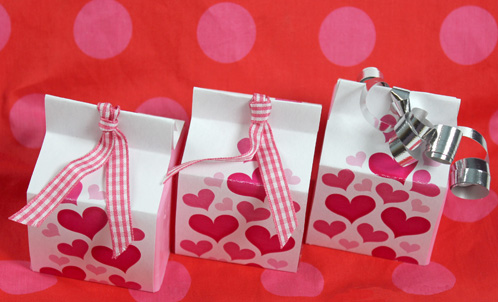 Get your FREE Valentine Soap Wraps!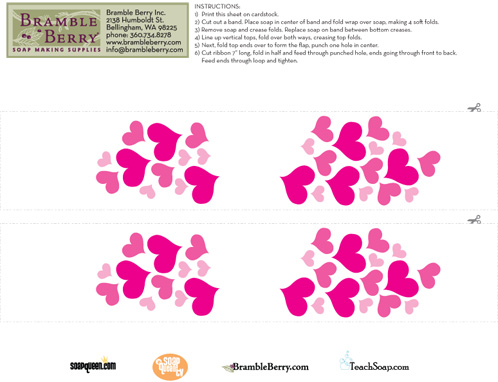 Folding Instructions
1)            Print the free downloadable template out on card stock.
2)            Cut out a band (there are 2 per sheet). Place soap in center of band and fold wrap over soap, making 4 "soft" folds.
3)            Remove soap and crease folds. Replace soap on band between bottom creases.
4)            Line up vertical tops, fold over both ways, creasing top folds.
5)            Next, fold top ends over to form the flap, punch one hole in the center.
6)            Cut ribbon 7" long, fold in half and feed through punched hole, ends going through front to back to make a little lariat. Feed ends through loop and tighten.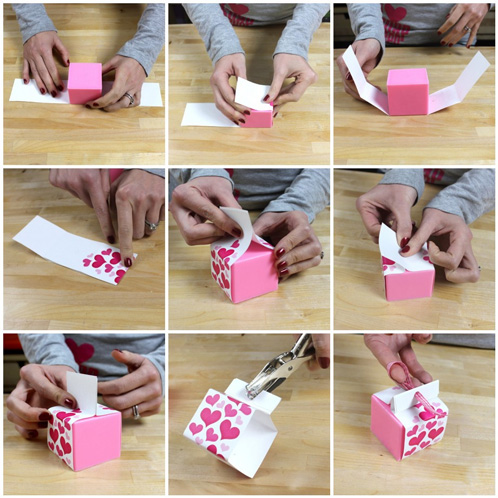 To get the pretty pink color above, use 2 drops of the new Non-bleeding Cherry Colorant in a rubbing alcohol slurry. Then mix in the colorant in 18 ounces of white soap base . If you have any other ideas on how to use the heart wrap, we want to see it! Show us on the Bramble Berry Facebook page.  Happy Valentine's Day!