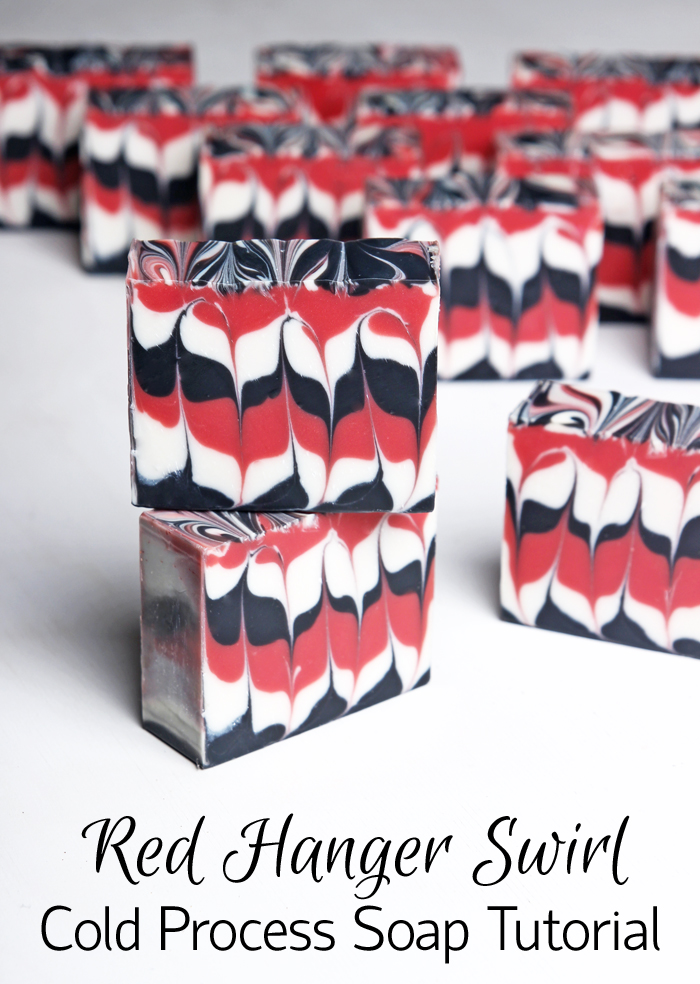 Red is bold and dramatic. It conveys a variety of feelings including love, anger, passion and courage. When brainstorming a soap design to represent the color red for #SoaptheRainbow, I wanted it to be bold and daring. I decided on a hanger swirl design with a vibrant shade of red paired with black and white. It's scented with a combination of Apple Sage Fragrance Oil and Yacht Club Fragrance Oil for a blend that's fruity with hints of musk.
The technique in this tutorial uses a bent hanger to swirl the soap. In this case I used the Hanger Swirl Tool, which is bent to fit inside the mold lengthwise. First, the black, white and red soap are carefully layered on top of each other. Then, the Hanger Swirl Tool is pushed up and down within the soap to swirl the layers. This technique can be modified in many ways depending on how you layer the soap and move the Hanger Swirl Tool. For example, the Butterfly Swirl made famous by Zahida of Handmade in Florida is a modified version of the hanger swirl technique. Click here to see Zahida's Butterfly Swirl in action.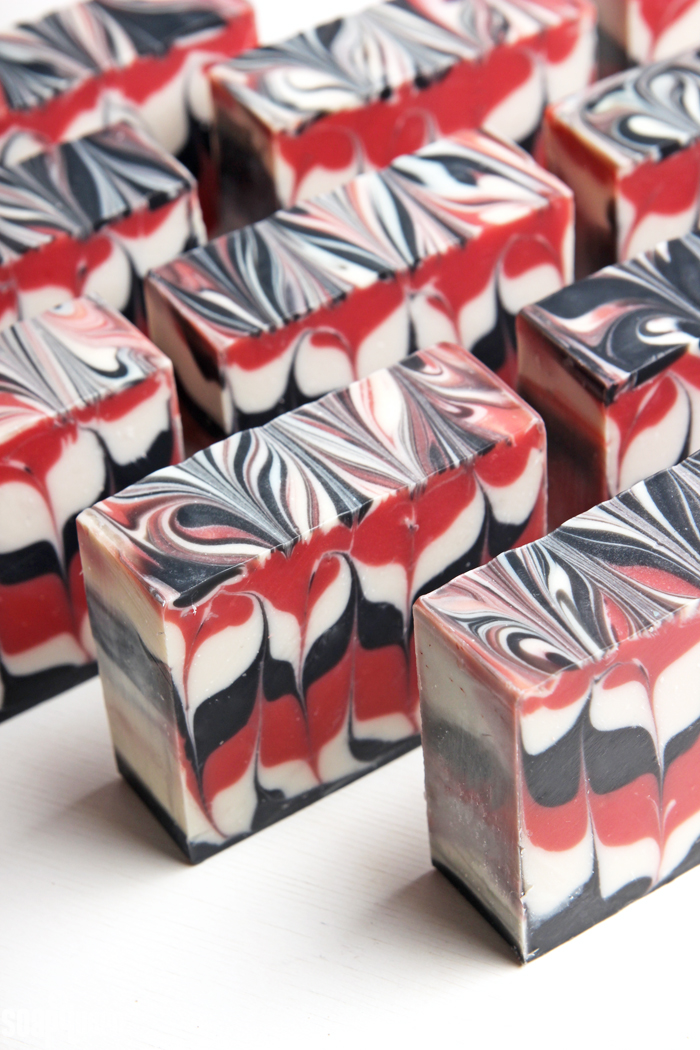 Red is a bit of a tricky color to achieve in cold process soap. When you add red colorants to a white batter, they tend to take on a pink shade. To create the vibrant red in this soap, I used a combination of Magenta Mica, Merlot Sparkle Mica and Sunset Orange Mica. On its own, Magenta Mica has a pink shade. The Merlot Sparkle Mica deepens the color, and the Sunset Orange Mica helps get rid of the pink hue. To see more red shades in cold process soap, check out the Quest for the "Perfect Red" in Cold Process Soap post.
Don't forget to keep sharing your #SoaptheRainbow red photos until Sunday! I will be choosing my favorite red photos on Instagram, Twitter and Facebook. The winners will be posted on the Bramble Berry Instagram account, and will win a $10 Bramble Berry gift certificate. There is also a Grand Prize worth more than $250 of Bramble Berry goodies. Click here to enter. But wait, there's more!