We're taking today off from our normally scheduled cold process tutorial to show you this fantastically thorough recap of a session at the 2014 Soap Guild. Our guest blogger Jean Horn attended Ruth Esteves' session on natural colorant testing in cold process. Natural colorants are a beautiful option for cold process soaping, but it's important to know how they behave and which ones will stand the test of time. Read Jean's excellent recap of the session, and then give natural colorants a try. — A.M.

Ruth was fighting a cold the day she presented, but she was happy to let me snap a picture of her anyway. She did an excellent job on her presentation, and she is co-owner of The Nova Studio in California.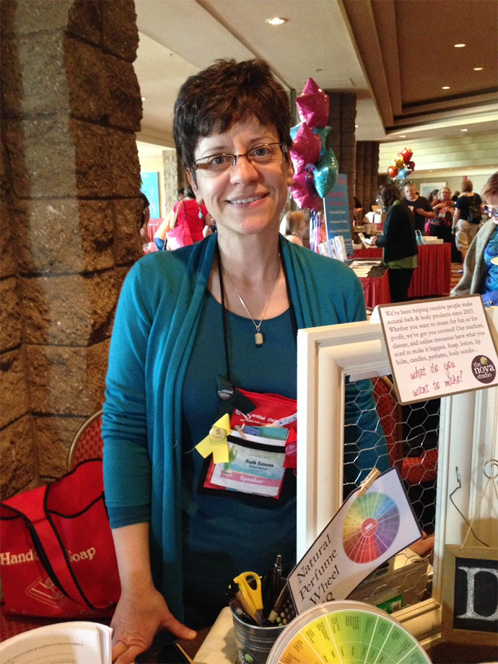 Have you ever thought about moving toward using mostly natural colorants? Is this something your customers are asking for? If so, the information presented in this session will be extremely helpful to you.
Which natural additives will withstand the rigors of cold process? What is a natural colorant? Ruth's presentation on testing natural colorants contained some great information addressing both of these issues.
Some natural ingredients that can add color to CP soap include plants, spices, Herbs and Botanicals, Clays, vegetables, and fruits. This Brazilian Clay Sampler from Bramble Berry is an example of the beautiful colors that clays lend to Cold Process Soap.  Wow. Aren't those soaps gorgeous?