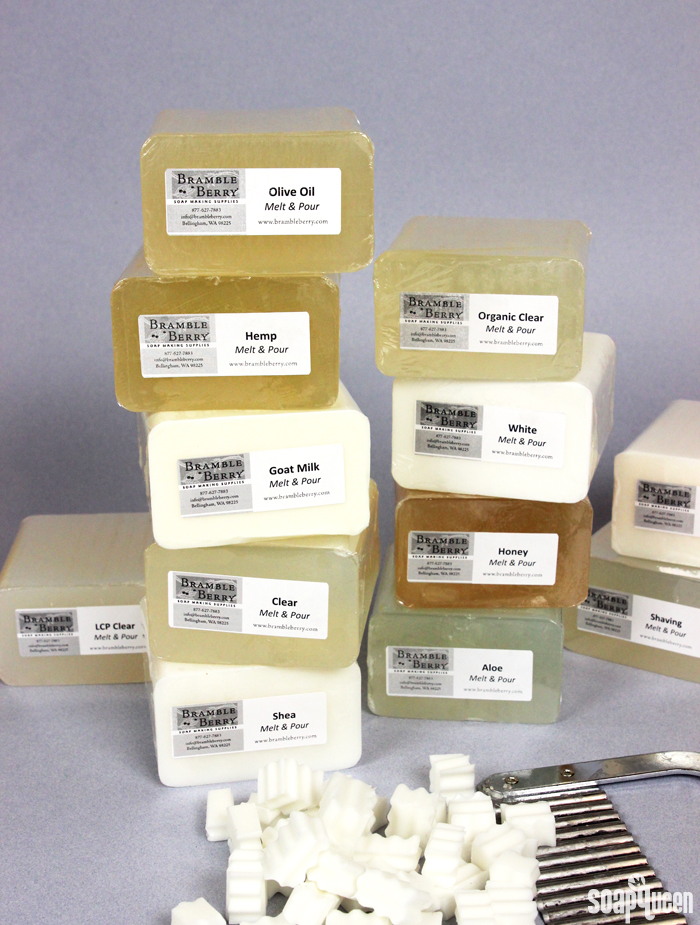 Melt and pour soapmaking involves melting and customizing pre-made soap bases. Melt and pour soap is quick to make and doesn't need to be cured like cold process soap. As soon as the soap hardens and cools, it's ready to go! Melt and pour soap does not require handling sodium hydroxide lye, making it a fun project for beginners and children. It also lends itself better than cold process soap to certain techniques, like incredibly crisp and clean lines.
If you're thinking about making melt and pour soap, the first step is to choose a base! With so many different options, it can be a little overwhelming. There are a wide variety of bases, each with different ingredients which will affect how they behave, look and feel on the skin. The type of base you use will most likely depend on the design of your project, budget and personal preference.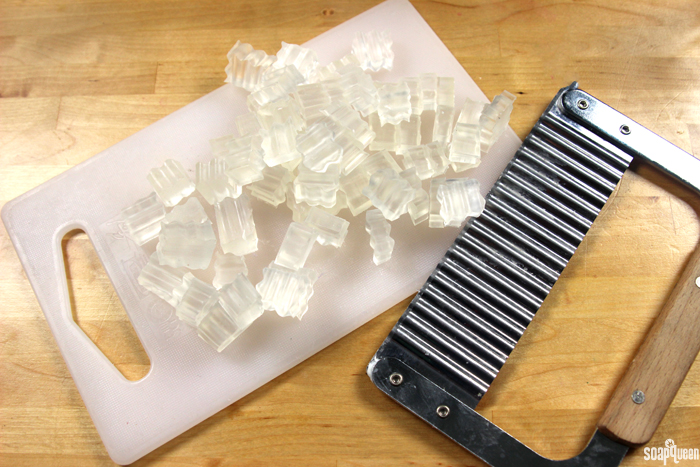 Melt and pour bases need to be chopped into small pieces before melting. Then the base is ready to customize with color, fragrance and more!
First, it's important to understand how melt and pour soap is different from cold process soap, and how it is similar. Both cold process and melt and pour soap are created by mixing lye and oils to start the saponification process. When these ingredients are measured correctly, there is no lye in the final bar of soap. During the soapmaking process, melt and pour soap has extra glycerin added. Glycerin is a humectant that draws moisture to the skin. The glycerin content in melt and pour soap is also what makes it possible to melt down melt and pour soap to a liquid texture that's easy to work with. It's also the reason that glycerin dew can form on melt and pour soap. You can read more about glycerin dew (aka: sweating) and how to prevent it in this blog post.
Bramble Berry carries several different kinds of bases to meet various needs and preferences. These bases fall into three major categories: SFIC Melt and Pour Bases, Bulk Melt and Pour Bases and Stephenson Soap Bases. Learn more about each type of base below!