Did you know that our Heavy Duty (HD) and ELF molds are great for cold process? They're made of durable FDA approved food grade plastic, which means you can use them for food projects like this adorable holiday tutorial demonstrates (just remember to keep molds for food separate from molds for soap!). It also means that your cold process soap may typically need 1-2 weeks before it's ready to unmold from these molds. The range of designs in this mold line is totally worth the wait, but a bit of Sodium Lactate (1 tsp per pound of oils) added to cooled lye water can help facilitate the hardening process and allow for a shorter wait time.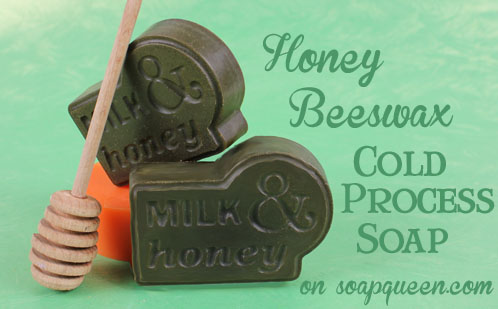 Recipe:
0.55 oz Cocoa Butter
3.3 oz Coconut Oil
2.75 oz Olive Oil (pure)
3.3 oz Palm Oil
1.1 oz Sunflower Seed Oil
1.6 oz Sodium Hydroxide (lye)
3.6 oz Distilled Water
1 teaspoon Sodium Lactate
0.8 oz Honey Beeswax fragrance
(Note: This mold has been discontinued.
It has been substituted with the 6 Cavity Honeycomb Silicone Mold.)

Click here to add everything you need for this project to your Bramble Berry shopping cart! [Read more…]