Every small business, no matter the industry, must adhere to rules and regulations. The soap and cosmetics industry is no exception. Even the smallest of soapy and cosmetic businesses must comply with the FDA in terms of labeling, manufacturing practices, claims and more. If you're a beginner or micro producer, it's easy to fall into the trap of feeling the rules don't apply to you because your business is so small. However, it is important to remember that the FDA enforces their rules and regulations; they expect even the smallest of businesses to comply with them. These rules are in place to benefit both your business and your customers by ensuring safety, purity of ingredients, transparent labeling, cleanliness and more.
Recently, a small soapy business friend had an unexpected knock on their door. When Robin of River Country Soapworks opened the door, she found an FDA inspector at her doorstep. Robin had not been reported to the FDA, but the inspector came across her website and noticed several problems with the way products were described. Specifically, Robin described a scent as "medicinal," and stated that tea tree and lavender essential oils contained antibacterial properties. For even more background, Kenna of Modern Soap Making shared Robin's story here.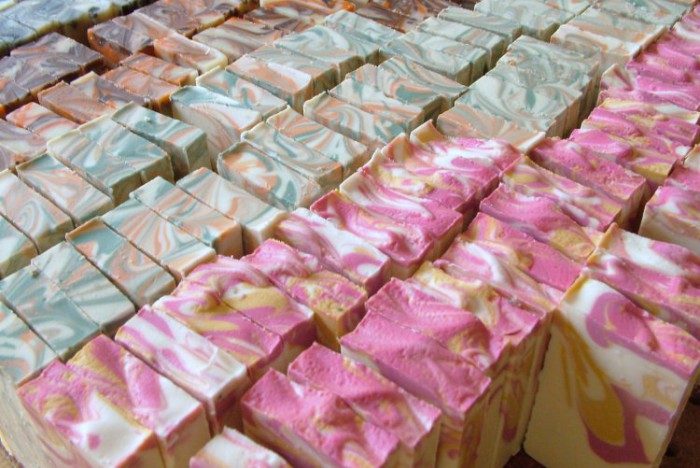 Robin of River Country Soapworks creates beautiful and high quality products. Shown here are her lovely wedding favor soaps.
I contacted Robin personally in April of 2015 to find out more about her experience. As a business owner myself, I immediately sympathized with Robin's situation. To receive a surprise visit from a government official must have been nerve-wracking! Specifically, I asked her more about what the FDA inspector needed from Robin in order to get in compliance. Below is what Robin shared with me about her experience.
"The amount of money spent has been nothing compared to time and effort on both my husband's and my part, getting ready and meeting the expectations of the inspector. Lots and lots of time. First though let me tell you what I actually spent. So you understand, I make soap in my garage. We converted the garage and I have my office, a stove, pouring tables and cutting area along with storage of raw materials and a drying room. I spent maybe $350 on more shelving, non-breakable sleeves for the over head lights and certified scale calibration that has to be done once a year. After the second inspection she noticed light bulbs over the desk, in the drying room and other area of the garage. I have to buy the metal cages for those lights. We also had to come up with some sort of raised platform that I could place my five gallon buckets on while making soap. You can not put molds etc. on the floor. They have to be raised up off of it.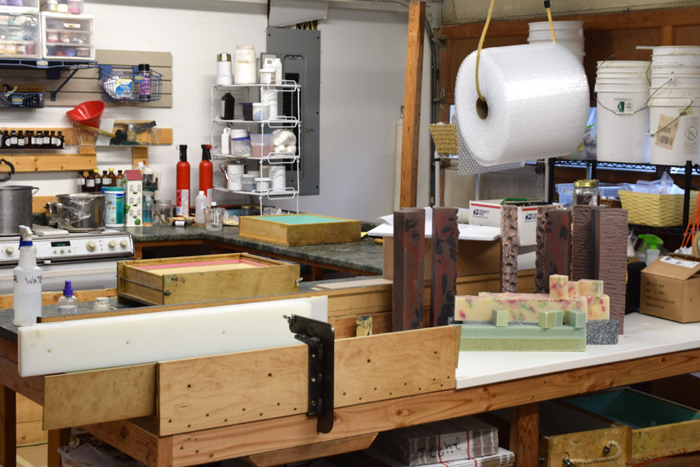 The FDA inspector required Robin to store all molds and buckets in her work space to be raised off the floor.