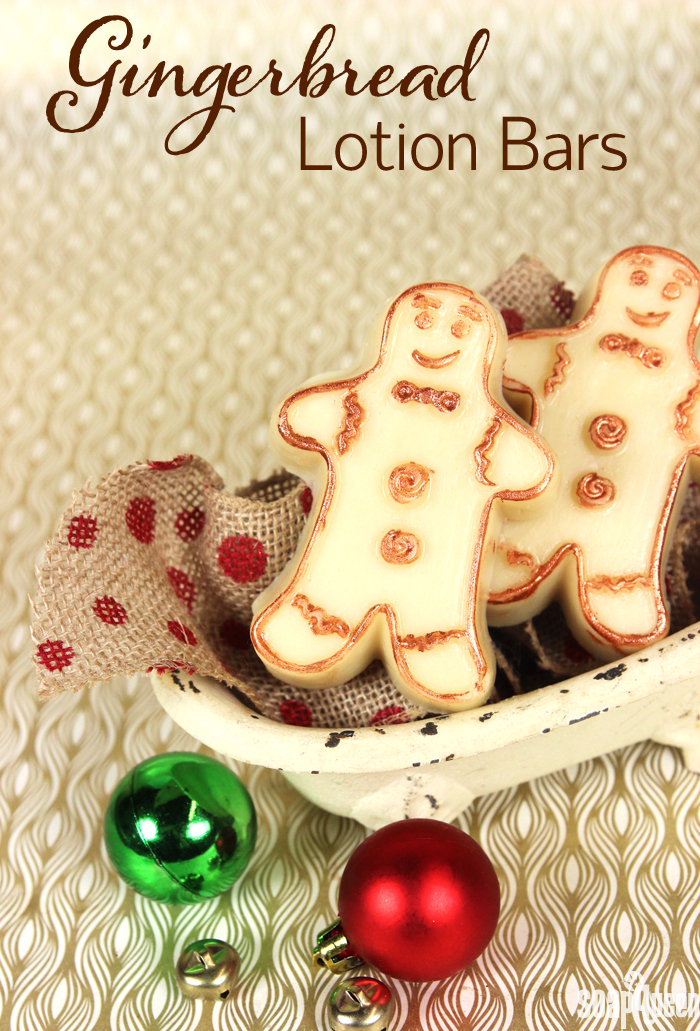 The winter months are notorious for dry and cold air, which can cause extreme skin dryness and flakiness. During this time, skin needs extra moisture to stay comfortable and hydrated. If your skin needs additional TLC during winter, these Gingerbread Lotion Bars are made with a combination of extremely skin-loving oils and butters. Cocoa butter and coffee butter in particular are excellent for creating a barrier that helps your skin retain moisture. They also smell amazing! Combined with Cinnamon Sugar Fragrance Oil, these bars leave a sweet and spicy smell on the skin.
To help the adorable features on the gingerbread man pop, the bars are "painted" with Copper Sparkle Mica mixed with 99% isopropyl alcohol. The alcohol dries, leaving behind lines of sparkly mica. For the first few uses, the bars will give your skin a light sparkle. If you love the Gingerbread Man Mold as much as I do (it's so cute!), check out the Cheery & Bright Gingerbread Man Melt and Pour Tutorial. If you prefer classic holiday colors, the video below shows you how to make adorable gingerbread man soaps. They make perfect gifts for friends and family.
Packaging and shipping lotion bars can be a little tricky because they are extremely heat sensitive. I recommend keeping these bars in a dry, cool place. If the bars come in contact with heat, they can melt. For tips on shipping during warm weather, check out this post. This box template is the perfect size for the adorable Gingerbread Man Mold. Simply print out the template on plain paper and use the template to trace onto cardstock. You can also print the template directly on cardstock if your printer will allow. Then, fold up the cardstock to create a perfect box for showcasing your gingerbread man creation! You'll want to line the bottom of the cardstock box with freezer paper to prevent the gingerbread lotion bar man from getting the box all oily. Also, this box won't hold oil, in the event you ship to someplace extra hot that melts your little gingerbread man lotion bars in transit.