One of the questions we get asked all the time is, "Can I put cold process soap in your plastic molds?" The answer is yes, absolutely! However, the unmolding process is a little different compared to cold process in wood molds and silicone molds. The plastic molds are airtight. While your cold process soap is in the mold, no air is touching the soap inside. That means the soap has to stay in the mold longer. Never fear! There are several tricks to getting your soap out of the mold with all the beautiful details intact.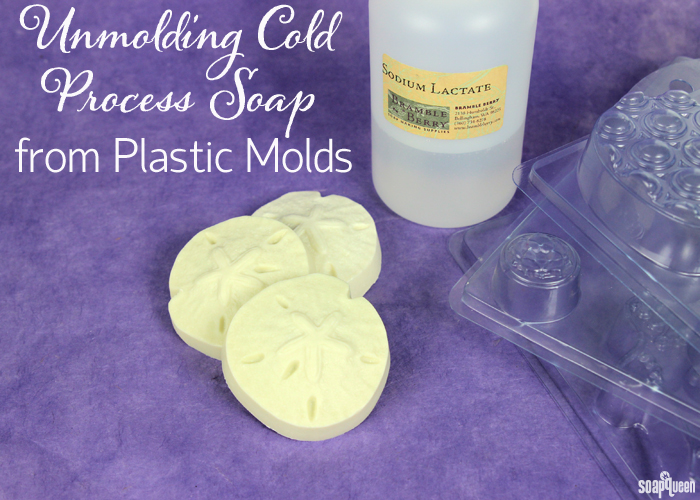 First and foremost, patience is key. While soap in silicone or wood molds is ready to unmold as early as 3-4 days, cold process soap in plastic molds can take up to 2 weeks. If your soap is still soft when you try to unmold it, it can leave drag marks or holes. Some of the details may be left in the mold as well. So, if your soap doesn't want to come out of the mold, let it sit for another day or two.
The recipe you use plays a huge role in determining how long the soap needs to stay in the plastic mold. Soap with a lot soft oils – oils that are liquid at room temperature – takes longer to harden. Soap with mostly soft oils, like olive oil and sweet almond oil, can take even longer than 2 weeks to unmold. Also, some of the details may not be as clear. Recipes with a lot of hard oils – oils that are solid at room temperature – will pop out of the molds faster. Hard oils include coconut oil, palm oil, cocoa butter and shea butter. Read more about hard and soft oils in the Formulating Cold Process Recipes post.