Happy Friday, everyone! It's going to be a pretty rainy weekend around here, which means lots of spare time to try out some of these great projects and crafts. Here are some of my absolute fave pins of the week: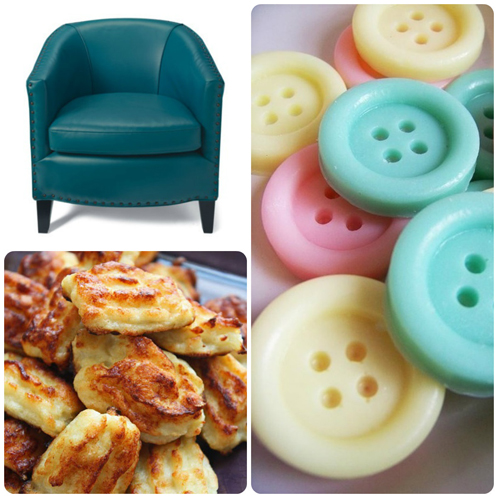 I'd love to curl up with a good book on this club chair. I may or may not have purchased two of them in this color (eh hem).
I'm crazy about these delicious (and healthy!) cauliflower tater tots. Hat tip to Jeannee from Dirty Laundry for finding them!
Don't be fooled, those aren't the kind of buttons you would sew on your jacket. Those cute as a button soaps would be more at home next to your bathroom sink!
While I'm sharing the social media love, here are some tweets from the week too! Here are some of my favorite things in 140 characters or less:
And finally, how about this week's soap challenge? Amy at Great Cakes Soapworks had us creating a fun topping on soaps using micas dispersed in oils. I used a spoon-plop method for the body of the soap…
…and here's me adding the toppings in a crazy random way!
The final soap came out pretty awesome IMO. See the video below of the first cut:
P.S. Have you guys heard of the Vine app yet? It's like Twitter, but with video – quick, 6 second long shots that turn out super cute (like the two examples above). Bonus, it's a free download at the iTunes store!
Here is the first cut of the soap. It's a mica-in-oil swirled top with a spoon plop technique on the inside. I'll definitely do a tutorial with it. I've been soaping up a storm for when Bramble Girl is born because I'm just guessing I'll be a little short on soaping time after she makes her arrival in about 5 weeks.
I hope everyone has a wonderful weekend! Jamisen and I have two play dates scheduled with some other littles and I have two walk'n'talks scheduled with girlfriends. I can't wait to fill that fun bucket up! =)