Click here for Day One: Examine Your Starting Point of 'Designing your Best 2011!"
Day Two: Determine Your Values
Day Three: Visualize Your Ending Point
Day Four: Chunk Into Goals
Day Five: Stumbling Blocks
Day Six: Public Declaration/Word for the Year (and a wee small contest!)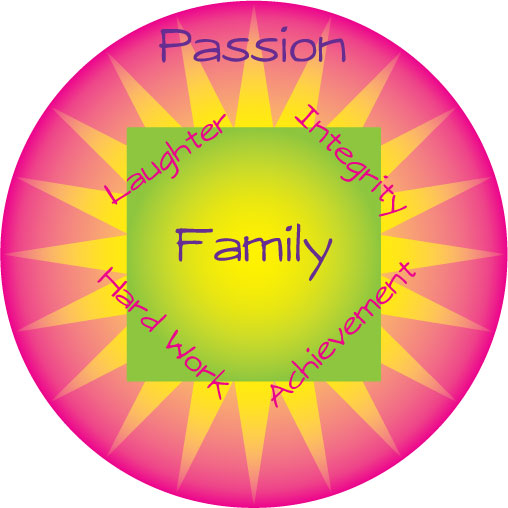 My Values
One of the reasons that goals are not achieved is because the ideas behind the goals aren't all that fully formed. The initial excitement wears off as soon as real life starts to wear you down. Sometimes, the goals aren't the right goals. Maybe the goal to become an Engineer was your parents' goal and not yours. And more often than not, your goals aren't being made for the right reasons.
Making a solid base for your goals success starts with a figuring out the 'Why' behind your pursuit in life. Why do you do anything? What's important to you? And, the most important, how do you want to live your life in the future?
If you've never done a Values exercise, they're quick, easy and painless to do. I think they're fun! There are a lot of ways to come up with your values but this is the one I like to do. Set aside at least 15 minutes for this exercise but don't short change yourself. Take as long as you need to make sure you come up with values that are very reflective of who you are as a person.
1. Write down five people you respect and admire; an alternate method is to write down the five people who have had the most positive impact on your life.


2. Write down six qualities for each of these five people (so you'll have 30 adjectives written down ideally).


3. Circle the adjectives that you think resonate most with you and your life. Aim for five or six values. 
Bonus: Ask three people close to you if they feel the values you've chosen for yourself ring true. I did this with 8 close friends and they all had valuable feedback for me.
That's it – it's that simple! You have a great start on what your values are as a person. I have three sets of values that I live my business, personal and family lives by: one for my company, one for myself personally and one with my husband for our family.
The values you decide on are what are going to guide you through choosing well thought out goals that really resonate with you and your life. These values will be the filter with which you judge your potential goals: "Does this goal fit within my values?" Or, these values will direct your goals. For example, my core value that drives everything in my life is my Family. If my goals aren't aligned with the idea of Family at the center, then it's time to reevaluate those goals and the value. Am I just paying lip-service to the idea that Family is a value? Or do I need to change my goals to fit my values?
Here are a list of possible Values that will hopefully get you thinking about things that describe your favorite five people. It is by no means a comprehensive list – just a little zing! to get your creative juices flowing.  Ready. Set. Write!