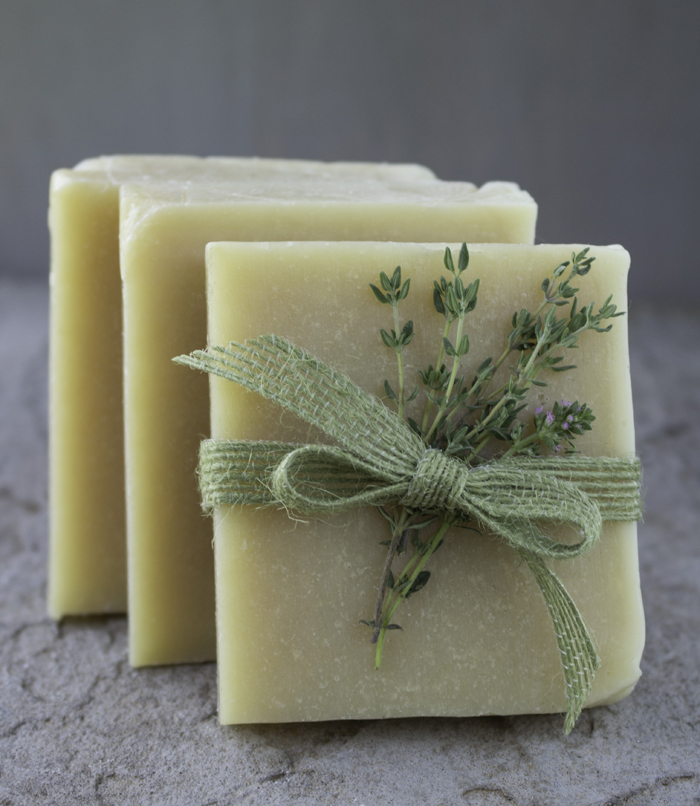 Thyme & Witch Hazel Facial Bars. Photo by Jan Berry. 
Today, Jan Berry of The Nerdy Farm Wife was kind enough to share this recipe for Thyme & Witch Hazel Facial Bars from her new book, 101 Easy Homemade Products for your Skin, Health and Home. The book is full of unique and simple recipes for cold process soap, scrubs, lotions, balms and more. Jan is also the author of several eBooks, including Natural Soap Making, Things To Do With Roses and Things To Make With Mint.
For this recipe, the distilled water is infused with fresh thyme. Then, witch hazel is combined with honey and added to the soap at trace. The large amount of olive oil and sunflower oil creates a gentle bar, making it great for delicate facial skin. Castor oil boosts lather and tamanu oil is added for its anti-inflammatory properties. To learn more about tamanu oil, click here. Because of the small amount of hard oils, so you may find this recipe takes a little bit longer to reach trace.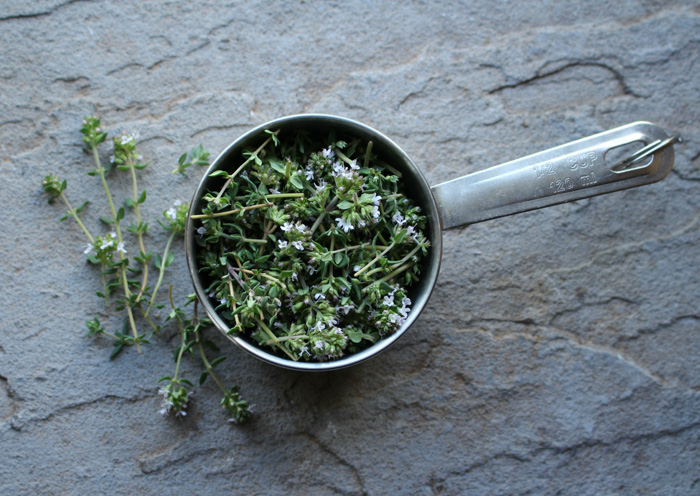 The water in this recipe is infused with fresh thyme. Photo by Jan Berry. 
I was intrigued by the idea of adding witch hazel at trace, as I previously avoided adding witch hazel to cold process soap. My thought was the alcohol content in the witch hazel would react poorly. Once, I accidentally sprayed witch hazel on top of my soap rather than 99% isopropyl alcohol and it caused some separation. When I tested Jan's recipe, I found the witch hazel behaved wonderfully with no problems at all. Even after 20+ years of soaping, I'm still learning new things. =)
Jan reports that adding witch hazel to soap at trace can lead to a slightly medicinal smell while the soap cures. When I made this recipe, I found the curing bars had a slightly sweet/medicinal smell that I really enjoyed. After about two weeks of curing, this scent faded.