This is the first of a three part series on selling soap.  Part One will discuss general topics like packaging and labeling, where to sell, licenses, taxes, etc.  Part Two will discuss issues specific to cold process soap and Part Three will discuss issues specific to melt and pour soap.
You're excited!  You love soap and you want to sell yours. You love your product, you love making it, your friends love it!  Now what?
There are several considerations:
How will you package it?
Where will you sell it?
What does the government want from you or require of you?
Where can you get insurance?
We'll take one at a time.
Packaging: If you're selling your soap, people will be picking it up, smelling it, passing it to friends and family, dropping it and so forth.  If you're doing markets and fairs, you'll be packing and packing, transporting and displaying your product.  In a nutshell:  It's going to get battered.  When you package your soap, you should think about how you can best protect it and how you can best get information to the buyers on your package.   One of the cheapest ways to wrap your soap is with what's called a cigar band.  It's just a strip of paper that goes around the bar.  You can use plain or fancy paper, you can print them yourself or have them printed.  In the photo below, you can see my soap with cigar band wrapping.  The logo and soap scent are listed on the front; ingredients, etc., are on the back.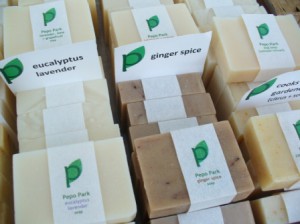 Cigar band-style labels indicate brand and scent
You can wrap vertically or horizontally.  The bands on my soap are quite narrow, but most people still place their fingers on the paper when they pick up the bar.
Obviously, you can go beyond the cigar band.  You can use paper or fabric to wrap the whole bar, you can shrink wrap the bars, use boxes, fabric bags….  The list goes on.  Bottom line: Protect the bars.